Original Kit:
N/A
Made By:
N/A
Scale:
1/24

Other Cartoon & Anime Models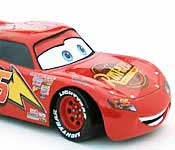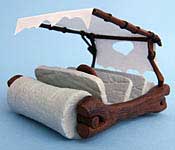 Cars 3 Cruz Ramirez
Rugrats Movie Reptar Wagon (Review)
Battle Force 5 Saber (Review)
The Simpsons Family Sedan
Steven Universe Van
Paprika Aston Martin DB7
Ghost in the Shell Motoko Kusanagi
Betty Boop '39 Chevy Deluxe (Review)
Roadster Racers Minnie (Review)
M.A.S.K. Thunderhawk
Other Toy Models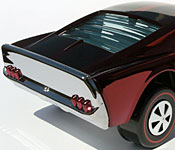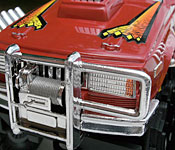 Transformers G1 Ratchet
R.A.M.S. Spy Sportster (Review)
"The Animal" Angry ATV
Machine Wars Prowl
Matchbox '83 Corvette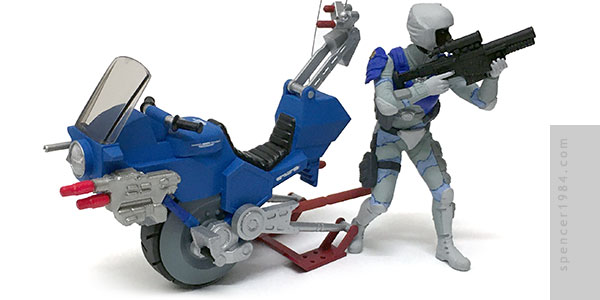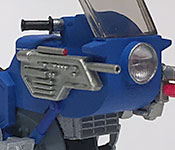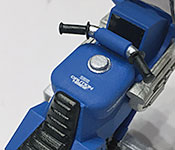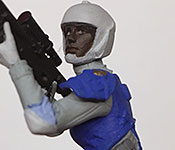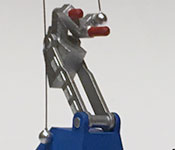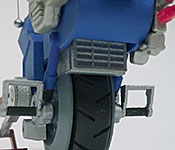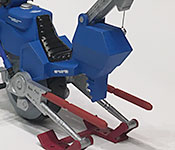 Spiral Zone started life like several other hot 1980s properties, as a modified import from Japan. In this case, Special Force Group Spiral Zone was originally created by Gundam designers Kunio Okawara and Kazuhisa Kondo as a line of high-end 1/12 scale figures produced by Bandai. But unlike Transformers, Robotech, et. al., Tonka opted to make an all-new (and more kid-friendly) line of toys rather than use the existing molds. I rather liked these new designs, featuring the hard edges and bright colors of the era, but the only models of the Zone Riders' monocycles were the toys which were way too big for my collection. There wasn't really even a good starting point that just needed modification, like there was for some other cartoon properties. After the semi-success of my Revenge-O-Mobile, I decided to take another crack at making myself another 3D printed model.
I aimed for a hybrid of the toy and animation designs, with plans to supplement the print with some custom and scratchbuilt components. My finished model consisted of the frame, tire, two wheel halves, two legs, the foot, the upper armature, and the upper pod. I experimented with keyed assembly, which worked OK but given the materials at play here could be improved for future projects. These parts were sanded, sprayed with a coat of gloss clear lacquer, and then painted. Tamiya TS-44 Brilliant Blue was used for the frame, decals were generic caution labels taken from a Gundam sheet, and everything was then shot with Dullcote to seal the decals and give the cycle a nice utilitarian finish. The rest of the parts were painted various grays, blacks, and metallic colors, plus some Apple Barrel Flamenco Red and Testors Dark Red for the rear details.
With my printed parts done, I now had to finish it with some more traditional modeling techniques. The headlight bucket was painted Molotow Liquid Chrome, and its lens was made by reshaping a spare I had in my parts box. The guns on the sides were modified from a pair in my parts box left over from an old Lanard The Corps!: S.T.A.R. Force toy set. Both were cut down from their original sizes, and the left received a pair of warheads from a 1/144 scale Macross Valkyrie while the right received an aluminum barrel and laser sight. While probably the most off-model parts of the build, I liked the thin profiles and high tech designs that I could afford by not having to make them part of a functional toy or mid-80s animated program. The windshield is a modified rear window from a Hot Wheels Jaguar XJ220, which was not only the right size but had a great smoke finish and curved edge to really look the part. Finally, the viewscreen was a piece of black vinyl and the two antenna were made from guitar wire.
The final detail I wanted to add here was a Zone Rider. Master Box's Laurie "Lightning Bolt" Barnes from their At the Edge of the Universe: Strange Company's Adventures... line was just about perfect: good stance, appropriate sci-fi armor, even the helmet and weapon looked pretty close to what the Zone Riders wore. The only physical change I made was to the helmet, which originally had a set of goggles. Otherwise I just painted her in "fog" camo, with an armored vest to match the cycle.