Made By:
Jada
Scale:
1/24
MSRP:
US$19.95
Overview:
Packaging (Design):
9/10
Packaging (Durability):
9/10
Casting (Body):
9/10
Casting (Interior):
N/A
Casting (Chassis):
8/10
Casting (Engine):
8/10
Paint (Exterior):
9/10
Paint (Interior):
N/A
Paint (Trim/Graphics):
9/10
Overall Panel Fit:
N/A
Total Score:
8.7/10

Other Pixar Models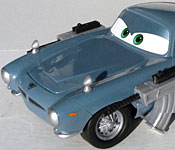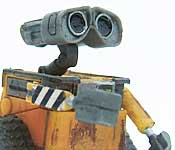 Cars 2 Raoul ÇaRoule (Review)
WALL·E
Cars 2 Francesco Bernoulli (Review)
Cars Lightning McQueen
Cars 3 Cruz Ramirez
Cars Lightning McQueen (Review)
Cars 3 Jackson Storm (Review)
Cars 2 Shu Todoroki (Review)
Incredibles Incredibile (Review)
Cars Mack (Review)
Cars 2 Lightning McQueen (Review)
Cars 2 Finn McMissile (Review)
Cars Doc Hudson (Review)
Cars 3 Lightning McQueen (Review)
Other Cartoon & Anime Models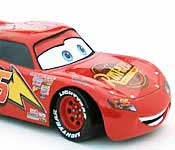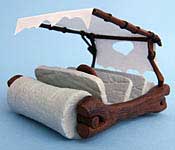 Spiral Zone Monocycle
Jimmy Neutron Rocket
Cyber Formula Super Asurada (Review)
Steven Universe Van
Ninjago Ultra Sonic Raider
Lupin III Mercedes-Benz SSK (Review)
Gunsmith Cats Shelby GT500
Danger Mouse Mk III
Freedom Project Tricycle (Review)
Paprika Aston Martin DB7
M.A.S.K. Thunderhawk
Big Hero 6 Baymax (Review)
Lupin III Fiat 500
Max Steel Turbo Racer (Review)
MOSPEADA/Robotech VR-052
The Real Ghostbusters Ecto-1
Grendizer Duke Buggy (Review)
Betty Boop '39 Chevy Deluxe (Review)
Speed Buggy Speedy
Ben 10 Alien Force Kevin's Car (Review)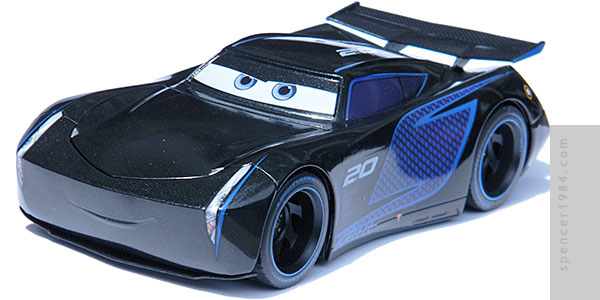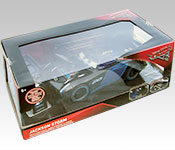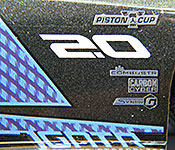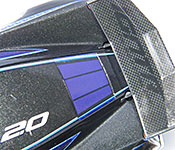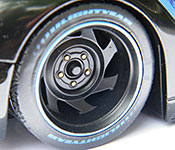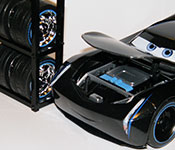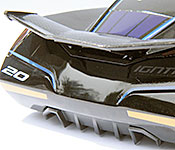 Background
Jackson Storm is the face of the next generation of racer: a technological marvel of metal and carbon fiber with better aerodynamics and a higher top speed than any Piston Cup contender that has come before. This gives Jackson a confidence that strays into arrogance, much like Lightning McQueen in his rookie year.
Packaging
The "tire rack" boxes are essentially a longer version of the standard Jada/Cars box. The top right corner of the front panel has the Cars 3 logo, the top left corner has the age restriction and diecast callout, and the bottom edge has the character name and set features listed in a combination of text and photos. The top and end panels repeats the movie logo, and the bottom of the box has most of the contact and legal info in white on a plain black background. The back panel has a top left/bottom right sweep, with the remaining contact/legal info in the bottom left opposite the movie logo. Between the two are co-sells for Lightning McQueen, Dinoco Cruz Ramirez, and Jackson Storm (all three in both tire rack and standard release), plus Mack. The inner tray is taped at both ends, so you will either need to open both end flaps to cut the tape or be ready to pull really hard on one end to tear the tray free of the tape on the opposite end. Jackson and the tire rack are held in place with two screws each. A screwdriver and two spare axles are mounted on the back wall of the tray in an easily removable plastic blister. Storm's hood and the tires in the rack are held in their respective locations with clear plastic trays.
Casting/Paint
As with Mack, Jackson Storm is an all-new casting for Jada's 2017 Cars license. Also like Mack, he shows Jada in top form. The body is entirely diecast metal, with a separate front and rear fascias (a concession to casting limitations as well as a way to allow future molds to have different expressions). The joints between the sections are sharp and tight, and are further hidden by Storm's dark paint scheme. The rear wing is a nicely integrated plastic piece, with crisp edges and no signs of sagging. Only a very light tooling mark down the top of each front fender hold this casting from a perfect rating. The chassis is plastic, and includes the front splitter and rear diffuser. Most of it is appropriately plain, broken only by the screw holes and required legal info. While the engine is arguably the weakest part of the overall casting, it does get bonus points for including recognizable details like ignition modules and a hood latch. Tires are soft vinyl mounted on directional sawblade wheels, with proper left- and right-wheel orientations.
The paint is just as good as the casting. Like the classic A-Team van, Storm appears solid black but is actually a two-tone gray and black divided by a colored stripe. The black section is smooth and even, while the gray has a subtle metallic texture that gives it a graphite appearance. The blue stripes, lights, sponsors, and windows are all sharply defined and expertly applied, with no registration issues whatsoever. If you really squint, you can see a slight bunching in the top corners of the windshield where the appliqué didn't quite settle down all the way. The front splitter and rear wing have some fantastic carbon fiber printing despite the complex surfaces. Breaking up the otherwise dark paint scheme are orange tags to note the jack points, fuel port, and rear bumper tips. A special mention needs to be made of the wheels, with yellow wheel lugs, blue rings, and dual "Lightyear" logos printed on the sidewalls. Jada has really stepped up there game here, and it bodes well for future releases in the Cars series.
Features/Accessories
As noted above, Jackson's hood opens to reveal a modern high-tech V8. This release also comes with a set of four optional tires, identical to the ones he wears in the box but mounted on chrome sawblades instead of black and blue. Swapping them requires removing six screws from the chassis, pulling the old wheels off, and using the spare axles to mount the optional wheels. A screwdriver is included, and doubles as a nice way to get Jackson and the rack out of the package without hitting your toolbox. The chrome wheels look good enough, but are definitely for a custom look as Jackson has only been seen with the darker wheels.
Accuracy
Excellent work all around. From the shape of the car to the colors used, this is Jackson Storm. Exact scaling is even harder to pin down than usual thanks to Jackson's custom design, but he fits well with previous 1/24 scale Cars vehicles/
Overall
Another fantastic piece from Jada. The spare wheels don't add much to it, so feel free to wait for the standard release, but well worth getting either way. Very highly recommended.
Have a question, comment, or criticism about this review?
Send me an e-mail
with your thoughts!