Made By:
Air Hogs
Scale:
1/24
MSRP:
US$24.99
Overview:
Packaging (Design):
8/10
Packaging (Durability):
9/10
Casting (Body):
8/10
Casting (Interior):
N/A
Casting (Chassis):
N/A
Casting (Engine):
N/A
Paint (Exterior):
8/10
Paint (Interior):
N/A
Paint (Trim/Graphics):
7/10
Overall Panel Fit:
N/A
Total Score:
8.0/10

Other Pixar Models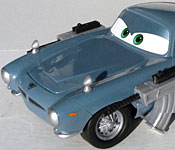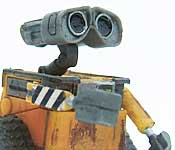 Cars Doc Hudson (Review)
Cars 2 Shu Todoroki (Review)
Cars 2 Raoul ÇaRoule (Review)
Cars 2 Francesco Bernoulli (Review)
Cars Lightning McQueen (Review)
Cars 3 Jackson Storm (Review)
Cars Mack (Review)
Incredibles Incredibile (Review)
Cars Lightning McQueen
Cars 2 Lightning McQueen (Review)
Cars 3 Lightning McQueen (Review)
Cars 3 Cruz Ramirez
Cars 2 Finn McMissile (Review)
WALL·E
Other Cartoon & Anime Models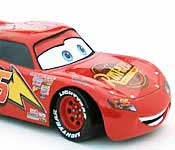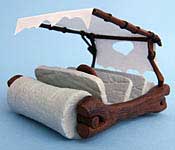 Cars Mack (Review)
Roadster Racers Donald (Review)
Ninjago Ultra Sonic Raider
Planes 2 Firefighter Dusty (Review)
Ben 10 Alien Force Kevin's Car (Review)
Ghost in the Shell Motoko Kusanagi
Battle Force 5 Saber (Review)
Thundercats Thundertank (Review)
The Real Ghostbusters Ecto-1
F&F: Spy Racers Thresher (Review)
Zootopia Police Cruiser (Review)
Speed Buggy Speedy
M.A.S.K. Manta
Cyber Formula Super Asurada (Review)
Roadster Racers Minnie (Review)
Betty Boop '39 Chevy Deluxe (Review)
Karate Kommandos Corvette
Scooby Doo Mystery Machine
Grendizer Duke Buggy (Review)
Cars Lightning McQueen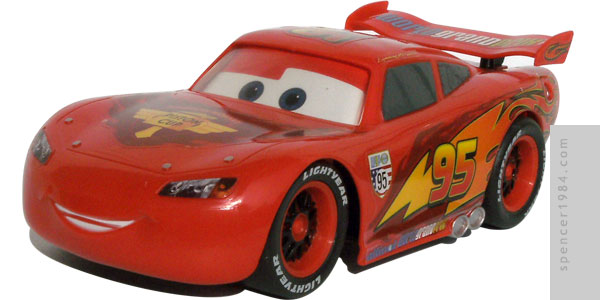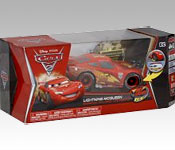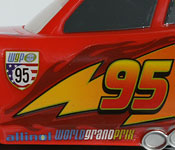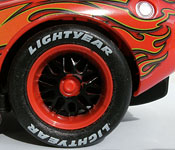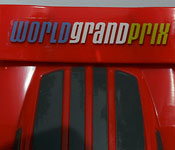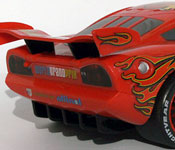 Background
Following the critical and commercial success of Cars, Cars 2 was only the second sequel created by Pixar (after Toy Story 2). Director John Lasseter claimed that the idea for the movie was sparked by his travels around the world, and his imagination of what Mater might do in certain situations outside of Radiator Springs. Lightning McQueen serves as the impetus to get Mater going, but he quickly becomes a secondary character (his story having essentially been finished in the first Cars). He did receive a new look for this role, with new graphics and some updated parts.
Packaging
Air Hogs tends to use irregular shaped packaging for their R/C vehicles, and the Cars 2 line is no exception. The front left side has a sideways "V" cutout that goes about halfway back, while the front right corner is truncated at a 45° angle. The window extends from the front of the box across the top to the back, with no parallel lines framing it. The front panel has a drawing of McQueen, the Cars 2 and Air Hogs logos, character name, and feature callouts. The age restrictions and other warnings/tech notes are spread across the bottom of the front panel and up the small panel made by the 45° cut. This end of the box is darker than the rest of the box (separated from the bright red section by a "V" that mirrors the cutout at the other end of the box), and has the Cars 2 logo centered on the end flap. The interior tray has an image of Porto Corsa, and McQueen is held down with four screws. The remote is held to the tray with a wire twist tie, and the batteries and instructions are packed under the tray.
Casting/Paint
The casting is simple but not crude, a nicely done piece that works within the rules of being a 1/24 RC vehicle. All of the details of his "Cars 2" upgrade have been captured well: he retains the fuel fill and overflow from his NASCAR days, but his wheels are now BBS-inspired 20-spoke wheels, his rear spoiler has been replaced by a wing, and a diffuser appears under his rear bumper. Overall a nice casting with a few separate pieces to help add detail. Unfortunately, the paint doesn't hold up as well: there are quite a few chips in the black paint used on the wheels, there is overspray above the silver exhaust tips, and several of the stickers are misaligned. There's also what appears to be a stress mark on the leading edge of the rear wing, just ahead of the "a" in "grand." It's not all bad news, though. The hood pins and mouth are neatly done, and the stickers are well done with bright graphics and no registration issues. Just spend a little time at the store looking through the options to pick the one with the straightest stickers and least amount of overspray. If desired, you can touch up the wheels with nothing more sophisticated than a black magic marker. The chassis is a simple panel with a screw-down battery cover and alignment adjustment tab between the front wheels.
Features/Accessories
Lightning McQueen is a full-function R/C car, and zips along smooth surfaces pretty well. The remote unit is identical to the other Cars 2 line, but has a sticker unique to McQueen so that you know who it belongs to. Air Hogs also included a neat feature on this series, where the eyes are tied to the steering mechanism. So when you turn left, McQueen looks left.
Accuracy
As the face of the Cars franchise, it's no surprise that Lightning McQueen looks the way he should. A very nice effort by Spin Master, with no weird proportions or oversimplified details. Scaling is also good, with this being identical in size to Mattel's 1/24 diecast Lightnng McQueen from the first movie.
Overall
This is a very nearly excellent replica, held back only by a few details. As it is, it's still a very good replica, and a worthy addition to any 1/24 scale Cars collection. The fully functional RC feature is a great bonus, and does not interfere with enjoying this as a static display model. Recommended, tending towards highly recommended depending on the sticker alignment and paint condition.
Have a question, comment, or criticism about this review?
Send me an e-mail
with your thoughts!