Made By:
Jada
Scale:
1/24
MSRP:
US$29.95
Overview:
Packaging (Design):
9/10
Packaging (Durability):
9/10
Casting (Body):
9/10
Casting (Interior):
N/A
Casting (Chassis):
8/10
Casting (Engine):
N/A
Paint (Exterior):
9/10
Paint (Interior):
N/A
Paint (Trim/Graphics):
10/10
Overall Panel Fit:
N/A
Total Score:
9.0/10

Other Pixar Models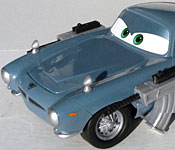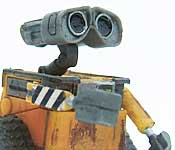 Cars Mack (Review)
Cars 3 Lightning McQueen (Review)
Cars 2 Francesco Bernoulli (Review)
Cars 3 Jackson Storm (Review)
Incredibles Incredibile (Review)
Cars 2 Finn McMissile (Review)
Cars Lightning McQueen (Review)
Cars 2 Shu Todoroki (Review)
Cars Doc Hudson (Review)
Cars Lightning McQueen
Cars 2 Lightning McQueen (Review)
WALL·E
Cars 3 Cruz Ramirez
Cars 2 Raoul ÇaRoule (Review)
Other Cartoon & Anime Models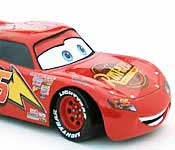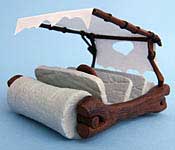 1992 Batman:TAS Batmobile
Gunsmith Cats Shelby GT500
Paprika Aston Martin DB7
Roadster Racers Minnie (Review)
Roadster Racers Goofy (Review)
Cars Lightning McQueen
Betty Boop '39 Chevy Deluxe (Review)
Lupin III Fiat 500
Karate Kommandos Corvette
Ben 10 Alien Force Kevin's Car (Review)
Steven Universe Van
Speed Buggy Speedy
Ninjago Ultra Sonic Raider
Thundercats Thundertank (Review)
Tiger & Bunny Double Chaser (Review)
WALL·E
M.A.S.K. Thunderhawk
Batman:TAS Batmobile (Review)
Jetsons Spaceship
Roadster Racers Daisy (Review)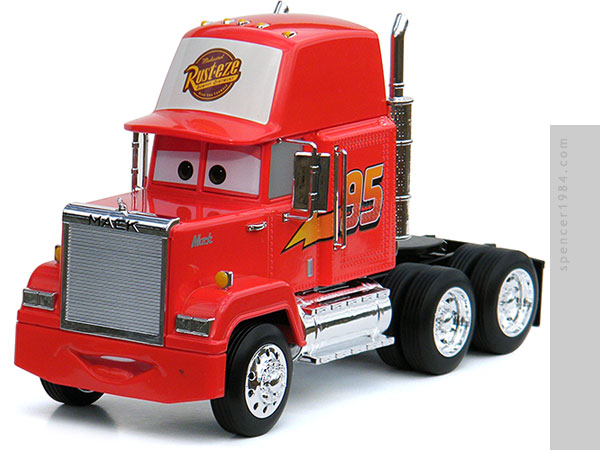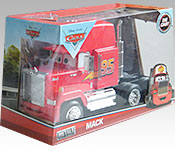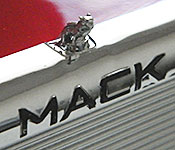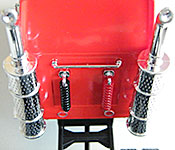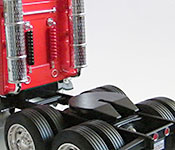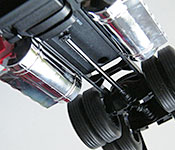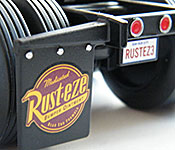 Background
John Ratzenberger has appeared in every Pixar movie to date, generally as a secondary character that helps move the plot along for a scene or two. His many vocal roles for the studio were lampshaded in Cars, where while at the drive-in Mack noticed that the Piggy Truck in Toy Car Story, the Abominable Snow Plow in Monster Trucks, Inc., and P.T. Flea Car in A Bug's Life were all voiced by the same actor.
Packaging
Should anyone need proof that the Disney/Pixar marketing machine has things down pat, one need look no further than the packaging. Despite coming out nearly a decade later and from an entirely different company, this box fits beautifully with the ones Mattel produced for the original Cars license. they're not identical, but the folded window box, tapered edges, and two-tone red all create a cohesive look for anyone who may wish to keep these in the boxes. Jada's box also includes the Disney/Pixar and movie logo, "Die Cast" callout, Metals logo, age restriction, and name/image of the included character on the front panel. The end flaps and top panel have only the Cars title logo. the back panel has co-sells for upcoming characters, which are essentially six versions of Lightning McQueen, Fillmore, and Mack. While this is definitely an unbalanced ratio, the "Cruising Lightning McQueen" and "Tire Rack Edition Dinoco Lightning McQueen" are unique to this scale and may be worth picking up. One oddity is that the art at the top of the box shows Lightning in his Cars 2 paint scheme, the only variant not offered by Jada in this first wave. The legal information is printed on the bottom of the back panel and bottom panel. The inside of the box features a large rural mountain highway backdrop, which is partially continued on the outside end flaps. Mack is held to this tray via four screws. The screw posts are discreetly tucked up into the cab and painted to minimize the visual impact of the character in the box. He's further held in place with a series of clear plastic trays, and a set of soft clear plastic circles are stuck to the front wheels to prevent them from getting scratched.
Casting/Paint
The casting here is outstanding, featuring a metal core and plastic details. Mack's cap and bumper are the only painted plastic components, and the red is a perfect match to the rest of the cab, all of which is smooth and even save for a small chip in the front bumper. The rest of the plastic has been chrome plated, including the grille, headlights, marker lights, fuel tanks, grab handles, mirrors, exhaust pipes, and trailer hook-ups. These do have some additional paint apps, including a black "MACK" across the top of the grille, yellow for the markers, and red and black for the air hoses. Silver paint is used for the hood scripts, door handles, and light bezels. White and a slightly darker red are used for his mouth. His eyes, "Rust-eze" billboard, and Lightning McQueen #95 graphics are all printed neatly with perfect registration. The chassis is surprisingly well done, cast in black plastic with enough detailing to recognize the engine, transmission, driveshafts, and suspension. The fifth wheel is a separate piece with an open hole that could be hooked up to a 1/24 trailer. A printed "Our Fair City/RUSTEZ3" license plate is mounted under a set of taillights painted to match the ones on the back of the sleeper. His mud flaps have the Rust-eze logo printed under silver mounting bolts. The wheels are chrome plated with vinyl tires, which look great from most angles but are sadly done in the same offset design Jada insists on using with all their big tires.
Features/Accessories
As with all previous 1/24 Cars diecasts, there are no extra features here.
Accuracy
Jada got it just about as perfectly as possible. From the curved hat bill to the tiny bulldog hood ornament, the riveted sides of the sleeper to the proper offset of the license plate, everything here just looks right. This is pretty much expected of a new tooling from Jada, though: when they're on, they're on. Their biggest problem is always one of scale, insisting on making everything fit a predetermined box scale, actual size of the car be damned. Larger cars generally suffer a lot less, and Mack bears that out by being a near-perfect 1/24 scale.
Overall
Doc Hudson used to be the high-water mark for the 1/24 Cars vehicles, but Mack here just left Doc in the dust. Very smart casting, excellent paint, and correct scaling of one of the most popular characters in the Cars franchise. Very highly recommended.
Have a question, comment, or criticism about this review?
Send me an e-mail
with your thoughts!