Made By:
Mattel
Scale:
1/24
MSRP:
US$17.50
Overview:
Packaging (Design):
9/10
Packaging (Durability):
9/10
Casting (Body):
6/10
Casting (Interior):
N/A
Casting (Chassis):
6/10
Casting (Engine):
N/A
Paint (Exterior):
7/10
Paint (Interior):
N/A
Paint (Trim/Graphics):
7/10
Overall Panel Fit:
N/A
Total Score:
7.3/10

Other Pixar Models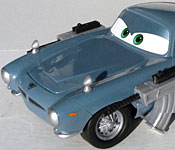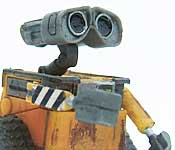 Cars 3 Jackson Storm (Review)
WALL·E
Cars Mack (Review)
Cars 3 Lightning McQueen (Review)
Cars Lightning McQueen
Incredibles Incredibile (Review)
Cars 2 Raoul ÇaRoule (Review)
Cars Lightning McQueen (Review)
Cars 2 Finn McMissile (Review)
Cars Doc Hudson (Review)
Cars 2 Shu Todoroki (Review)
Cars 3 Cruz Ramirez
Cars 2 Francesco Bernoulli (Review)
Cars 2 Lightning McQueen (Review)
Other Cartoon & Anime Models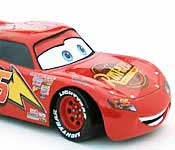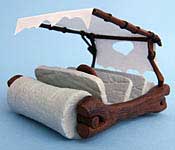 Zootopia Police Cruiser (Review)
Chop Socky Chooks Cars (Review)
M.A.S.K. Manta
Cars 3 Cruz Ramirez
F&F: Spy Racers Thresher (Review)
Speed Buggy Speedy
Cars 3 Lightning McQueen (Review)
Karate Kommandos Corvette
The Real Ghostbusters Ecto-1
Planes Dusty Crophopper (Review)
G.I. Joe RAM
Freedom Project Tricycle (Review)
Roadster Racers Goofy (Review)
My Neighbor Totoro Catbus (Review)
Ghost in the Shell Motoko Kusanagi
Batman:TAS Batmobile (Review)
Roadster Racers Donald (Review)
Turbo Teen
Planes 2 Firefighter Dusty (Review)
1992 Batman:TAS Batmobile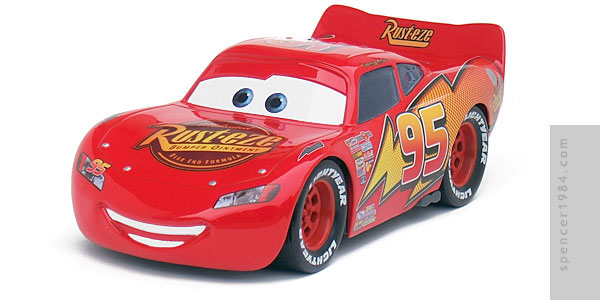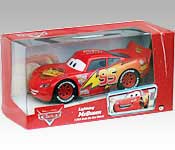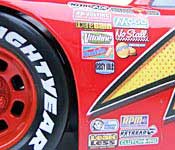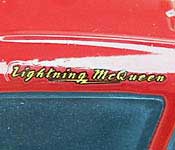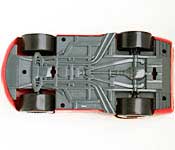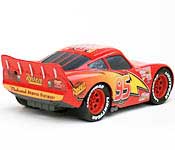 Packaging
An unusual window box, in that one top front corner is made by the plasic window, while the other seven are traditional cardboard. The base color is a metallic red with a pinstripe detail going from the front to the top panels on the solid end of the box. The Cars logo is on the top, front, and solid end. The solid end also has the character name, product info, and an interstate marker-shaped ad for the Cars video game. The character/product info is repeated on the front between the movie logo and a promotional "photo" of McQueen (not the toy). A small "8+" age notice is in another interstate marker next to the picture. The Back of the box has a large photo of the toy, under a promotional still of McQueen and Mater, the name/product info, and another large movie logo. To the left of the toy photo is a pair of short blurbs, the first about McQueen, and the second about the movie. To the right of the photo is an ad for the License to Win Game, complete with all of the usual legal jargon. Under that is a photo of the 1/24 Mater toy. The bottom of the box has all of Mattel's legal information. McQueen is held down to a desert-themed base/backdrop by two twist locks - no special tools required.
Casting/Paint
The body is one piece, with the glass cast in translucent (but not transparent) blue-gray plastic. The chassis and tires are plastic, with solid metal axles front and rear. Although the casting is pretty decent overall, the total parts count here is under a dozen pieces and the simplification shows. Many of the details look soft, such as the panel breaks, roof rails, and wheel lugs. It's possible that the paint is at fault here for most of these: although the base red looks decent and the sponsor/racing details are very well done overall, the whole car is completely buried in clearcoat. You can actually see where the clearcoat has pooled up around the bottom corners of the windshield on some McQueens. As noted, the sponsor and racing graphics are very well done, though. All of the sponsors are clear and easy to read, and the printing is crisp and clean with nice color transitions and fine detail work. The clear edges of the graphics are still visible - generally a common occurrence on diecasts, but if anything, the clearcoat has exaggerated these edges. Some black paint around the mouth, windshield frame, panel lines, or exhaust tips would have been nice, but as it is there are only three actual "painted" colors: white for the eyes and teeth, silver for the spoiler braces, and red for the rear window braces & wheels. All three colors are prone to bleed, so be sure to check for the best one before you buy it.
Features/Accessories
Nothing. Having disassembled and modified a McQueen, it looks like there may have been a working front steering at some point that never made it to the final product.
Accuracy
When you first put McQueen next to other 1/24 vehicles, he looks a bit big. That actually seems pretty accurate to the movie, though - despite being a "kid" of sorts, he is a fairly good sized car. Length and height seem reasonable at a scale 14' and 4'6" (respectively). Width is a little big at 7' across the rear fenders, but as a fantasy racing car he gets a little leeway (the 2006 NASCAR Dodge Charger, by comparison, is 17' 2" long x 4' 3" high x 6' 4" wide). The graphics all look spot-on, though his eye placement in the windshield makes him look a bit cross-eyed. Not really wrong, but not the best look they could have given him.
Overall
It's great having a 1/24 version of Lightning McQueen, but it could have been better with a little more care. One could argue that the simpler design is to make it more kid-friendly, but that's a pretty poor excuse: there are a ton of other toys with features specifically designed to be fun for kids that have more detail than this, so there's no reason why this couldn't be a solid, well done diecast. At $17+, it's too expensive. Or, going the other way, the bleed issues, lack of extra paint ops, and simplified casting would be much more acceptable had this come in a bit cheaper. As it is, the price is comparable to Jada or Greenlight - both of which have more parts, better detail, and an overall higher quality. If McQueen and Mater were around $8 - $10 each, I'd give a very enthusiastic recommendation. As it is, I can only recommend it to fans of the movie.
Have a question, comment, or criticism about this review?
Send me an e-mail
with your thoughts!