Made By:
Jada Toys
Scale:
1/24
MSRP:
US$14.99
Overview:
Packaging (Design):
9/10
Packaging (Durability):
8/10
Casting (Body):
8/10
Casting (Interior):
8/10
Casting (Chassis):
7/10
Casting (Engine):
8/10
Paint (Exterior):
8/10
Paint (Interior):
N/A
Paint (Trim/Graphics):
8/10
Overall Panel Fit:
9/10
Total Score:
8.1/10

Other Fast & Furious Models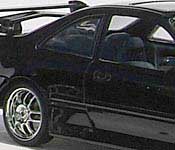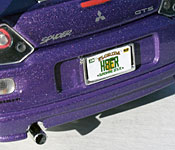 2 Fast, 2 Furious Evo VIII (Review)
Furious 6 Nissan GT-R (Review)
The Fast & the Furious Civics
F8 of the Furious Ripsaw (Review)
Fast 5 Nissan GT-R (R35)
Fast 5 '70 Charger
Spy Racers Ion Motors Thresher (Review)
Hobbs & Shaw Peterbilt (Review)
F8 of the Furious Fleetline (Review)
F8 of the Furious Plymouth GTX
The Fast & the Furious Chevelle
Furious 7 '70 Road Runner (Review)
Furious 7 Maximus Charger (Review)
Furious 7 Off-Road '67 Camaro (Review)
F8 of the Furious Ice Charger (Review)
Fast & Furious '70 Charger
Furious 7 '70 Charger (Review)
Furious 6 '69 Charger Daytona
The Fast & the Furious RX-7
Fast & Furious Chevelle (Review)
Other 2010s Movie Models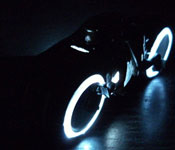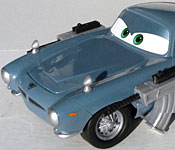 LEGO Batman Ultimate Batmobile
Furious 7 Off-Road Challenger (Review)
Deadpool Taxi
Born 2 Race Subaru Impreza WRX STi
Furious 7 Off-Road '67 Camaro (Review)
Furious 7 Off-Road '70 Charger
Fast 5 Nissan GT-R (R35)
LEGO Batman Batmobile
Furious 7 '70 Charger (Review)
Incredibles 2 Incredibile (Review)
Furious 7 Nissan GT-R (Review)
Furious 7 '70 Road Runner (Review)
Furious 7 Maximus Charger (Review)
Furious 7 '70 Charger
Furious 6 '69 Charger Daytona
Hobbs & Shaw Peterbilt (Review)
Cars 3 Lightning McQueen (Review)
200 MPH Nissan 370Z
Planes Dusty Crophopper (Review)
Tron Legacy Sam's Light Cycle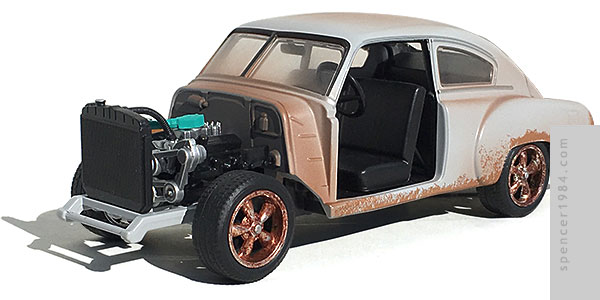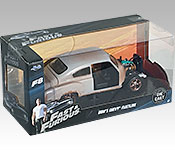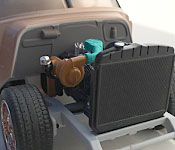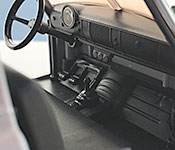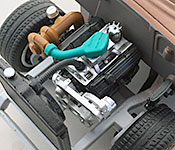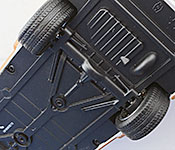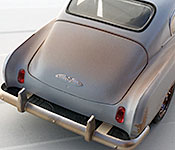 Background
Dom revisits his street racing roots in The Fate of the Furious (a.k.a. Fast 8 or F8), running a stripped-down Chevrolet Fleetline against a custom Ford Fairlane while in Cuba. Of course, his opponents aren't above using dirty tricks...leaving Dom to make some split-second choices that favor victory over self-preservation.
Packaging
The packaging here is identical to what we saw with the Ice Charger, but the sticker on the front now reads "Dom's Chevy Fleetline."
Casting/Paint
This is quite a departure for Jada, who's strengths are generally slick castings with clean paint jobs. Here they have to lean heavier on internal detailing and heavy weathering. For the most part they handled the change very well, using some clever parts breakdown to deliver a car that looks the part while still being sturdy enough to handle the rigors of manufacturing, shipping, and handling.
The main body and forward part of the chassis are a single die cast metal piece, with a separate metal trunk lid. Casting quality is Jada's usual good work, with clean panels and nice tight panel lines. There are two faint separation marks on the outside of the front frame rails, and two more inside the rear fenders just above the taillights, but otherwise nothing bad to say here. Plastic is used for the detail parts, including the firewall, clear red taillights, clear windows, and chrome plated rear bumper. The body is painted primer gray, with darker gray used for the firewall, black used for the front and rear window gaskets, and silver used for the side and trunk lid trim. The whole thing has then received a generous weathering, giving it a nicely aged look. The base paint and most of the weathering is surprisingly well done for a mass-market release, though the rust on the rockers looks a bit too neat and "painted on."
The small block Chevy V8 may be Jada's first fully-cast engine (no hiding behind fenders or belly pans this time), and they did a pretty good job of it. It has separate heads, intake manifold, belt assembly, radiator, hoses, and turbocharger. There are still a few "cheats" - the exhaust manifolds don't actually cross under the engine, they just have tails that stick down to give that illusion - and the seam on the turbocharger is a bit ugly, but otherwise this is good work. Someone who wanted to take it apart and add their own details to it could really make this pop. The main block, heads, hoses, and radiator remain bare black plastic, but the engine shows a little more life with some of the other parts. The intake manifold, front cover/belt assembly, wastegate, and radiator cap are silver; the turbocharger and exhaust pipe is rust red; and the intake plenum is turquoise.
Inside is a stock bench seat and dashboard. The floor and rear seat area have been stripped, with blanks used to fill in where the seat and side panels used to be. The steering wheel is either a custom or a modified stock piece, and a set of auxillary gauges have been mounted under the center of the dash. It has a late model shift lever, modern pedals, and a six-point roll cage. Everything is cast in solid black with a sticker used for the speedometer. Most everything is clean and well done, though it's impossible to overlook the necessary shortcomings under the dash: the pedals and steering wheel don't go anywhere, and the assembly and reinforcing components are clearly visible. Still, nice work overall.
Finally, the chassis is a little nicer than Jada's standard "flat pan." Not by much, but the distinct Chevrolet frame, late model rear end, and fuel tank/spare tire well under the trunk are all present. The wheels are subdued by Jada standards, chrome five-spokes with low profile tires over black disc brakes. A black master cylinder is mounted on the firewall above the front left tire, and while there's no plumbing it's still nice to see they included this detail.
Features/Accessories
Since most everything has been stripped off his car, the only remaining feature is the opening trunk lid. It works nicely, though.
Accuracy
Allowing for the fact that this is a mass-market release in the sub-$20 range, Jada did a fantastic job getting this right. The exposed details really look like a stripped car rather than an incomplete diecast, the paint really sells the age and condition of the car, and the engine is easily recognizable. With so much good, it's easy to overlook the nonexistent front suspension or the area between the dash and the floor. There needed to be compromises to get this out, and Jada made the smart ones across the board. Even scaling is good, with the wheelbase indicating this as a good 1/24 scale.
Overall
Jada really seems to be bringing their "A" game for these Fate of the Furious cars, and the Fleetline is another winner. Highly recommended.
Have a question, comment, or criticism about this review?
Send me an e-mail
with your thoughts!