Made By:
Chevron
Scale:
N/A
MSRP:
US$6.99
Overview:
Packaging (Design):
8/10
Packaging (Durability):
9/10
Casting (Body):
8/10
Casting (Interior):
8/10
Casting (Chassis):
N/A
Casting (Engine):
8/10
Paint (Exterior):
N/A
Paint (Interior):
N/A
Paint (Trim/Graphics):
9/10
Overall Panel Fit:
10/10
Total Score:
8.6/10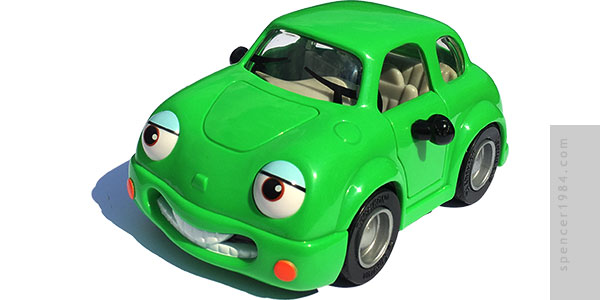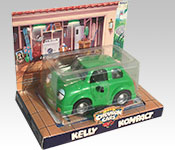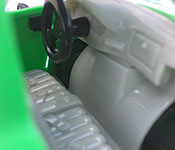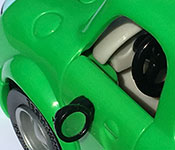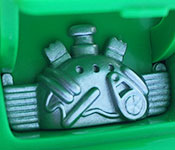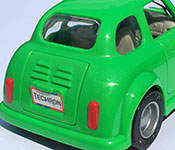 Background
The fifth and sixth waves of Chevron Cars kept to the usual summer/winter release pattern, but for the first time this schedule did not match up characters with their commercial appearances. Despite appearing together in the ad, Kelly Compact was released in November 1998—five months after the release of Leslie LX.
Packaging
Kelly Kompact is sitting on a base approximately 7¼" (185mm) x 4½" (115mm), with a printed tile driveway surface. This base is approximately ¾" (18mm) thick with a dark purple edge. The Chevron logo/name and "Keep your Neighborhood Clean ♻" are printed on both ends, while Kelly's name and the Chevron Cars logo are on the front edge. Behind her is a printed panel with an image of the same garage as we saw with Leslie, albeit from a different, straight-on angle here. "Safety tested and recommended for children age 3 and over" is printed near the lower left corner of the panel. The back panel has changed perspective as if you were standing in the driveway looking towards the garage, with Kelly in the foreground and Leslie parked in the garage. A sign hanging inside the garage lists this toy's features as it did on Leslie's package, but because of the reverse angle this sign has been moved to the opposite wall and the place where it used to be is now an arched window. The bottom of the package has a photo of Kelly with callouts for her moving eyes, opening doors/trunk [sic], and reflective mirrors, along with the typical marketing paragraph: "Kelly Kompact likes her sister, Leslie LX. But like all sisters, especially sisters who share the same garage, they don't always see eye-to-eye. Mostly they disagree about little things...and they always make up in the end. In fact, Kelly and Leslie are best friends." The customer feedback card and "Owner's Manual" are packed inside the blister under Kelly.
Casting/Paint
Kelly has a bright green ABS body with black mirrors. Reflective silver stickers are used for the mirrors, and a Techron sticker is mounted as the license plate on the rear engine cover. The tires are treaded vinyl with Chevron/Techron cast on the sidewalls over silver painted wheels with Baby Moons. Her parking lights are orange, taillights are red, and her mouth is painted black with white teeth. Edges are generally sharp, with some light ghosting in places but nothing significant. Her eyes are brown with blue eyelids. Kelly's interior is a medium-light gray with detailed front and rear seat belts, a split front bench, and nicely detailed dash with glove box, radio, and gauge face detail behind a black steering wheel. Under the rear lid is a generic air-cooled engine. It has some recognizable details like a drive belt, finned heads, and an air cleaner, and the entire unit is painted silver. The chassis is the usual name and series logo plate.
Features/Accessories
Kelly has opening doors, and opening engine cover, and moving eyes. The hinges all work nicely and the panels snap securely into place, with the engine cover being particularly solid in both up and down positions. The eyes are activated by pushing down on her front and rolling her forward, which makes her eyes move left to right.
Accuracy
In her ad, Kelly was only shown from the front, but from that limited perspective she appears to be a pretty good match to her commercial. The sideview mirrors aren't sized or placed quite right, but are close enough. Her small size, overall shape, and the dual-louvered engine cover suggest that Kelly is at least partially inspired by the classic Fiat 500. She measures approximately 5" (125mm) long, 2¾" (70mm) wide, and 2½" (65mm) tall.
Overall
While Kelly is really no more a Fiat 500 than Wendy was a Volvo 850, the rough similarities are enough to warrant a mention and suggest that Chevron's Car designers were indeed gearheads. Reccommended.
Have a question, comment, or criticism about this review?
Send me an e-mail
with your thoughts!