Made By:
Chevron
Scale:
N/A
MSRP:
US$6.99
Overview:
Packaging (Design):
8/10
Packaging (Durability):
10/10
Casting (Body):
8/10
Casting (Interior):
8/10
Casting (Chassis):
N/A
Casting (Engine):
N/A
Paint (Exterior):
N/A
Paint (Interior):
N/A
Paint (Trim/Graphics):
9/10
Overall Panel Fit:
9/10
Total Score:
8.7/10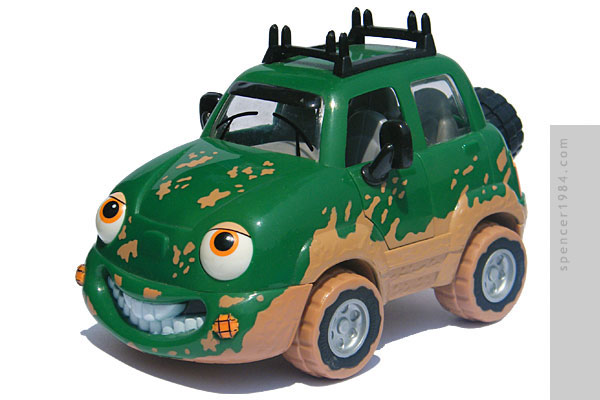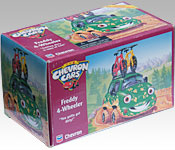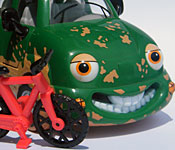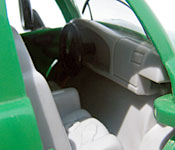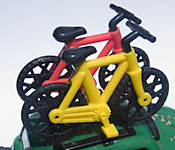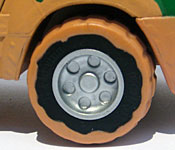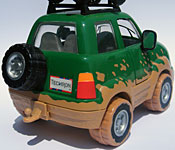 Background
With the success of Sam, Wendy, and Tony, Chevron released the fourth car of the series in December 1996. This release was quite a bit different from the first series, and set the stage for future releases.
Packaging
Like the earlier cars, Freddy is packed in a windowless cardboard box. This is quite a bit larger, though, measuring 6.75" (175mm) x 4.125" (105mm) x 4.25" (110mm). The front panel features a large portrait of Freddy on a muddy trail off-center on a dark magenta background. To the left of the picture is the Chevron Cars logo, "Getting dirty is tons of fun!", and Chevron logo. The age restriction is printed twice on the picture, and a banner across the top right corner promotes the mountain bike accessories. The bottom of the box is nearly identical, though the image is cropped a little differently, the corner banner is gone, and the "Getting dirty..." has been replaced with "You gotta get dirty!" Each end flap has a wider crop of Sam's portrait with the "You gotta..." text. The top panel has the Chevron Cars logo and a photo of the toy with a list of features (2 cool mountain bikes fit on roof rack/Eyes move side to side/doors swing wide open/spare tire, trailer hitch, and much more!). The back panel has a different toy photo and call outs for his mountain bikes, moving eyes, side view mirrors, sun visor, roof rack, doors, off-road tires, spare tire, and trailer hitch. Also on the back panel are the legal info and the text "Free spirited and caked with mud, Freddy 4-Wheeler's off-road adventure will be tons of fun!" Freddy and the bikes are packed with a customer feedback card and the "Owner's Manual" that includes instructions, a character bio, and a removable character card.
Casting/Paint
Freddy is cast in bright green with black mirrors, visor, and roof rack, clear windows, brown trailer hitch, silver wheels (all five of them), and a combination of brown (mounted) and black (spare) treaded vinyl tires. Although he maintains the soft animated look of the previous cars, Freddy has a lot more details like cast-in mud splatters, guards over his marker lights, and a differential hump behind the rear axle. "Chevron/Techron" is printed on the sidewalls of all five tires, and the four mounted tires have extra cast mud detailing. The marker lights are painted orange with black wire guards, the taillights are painted red and orange, the four mounted tire sidewalls are painted black, the mouth and wipers are painted black, and a heavy brown splatter is applied to the whole body. There is a little bit of ghosting between his mouth and teeth, but otherwise everything looks good (admittedly, the mud splatter may have missed their intention but it looks good regardless). His eyes are orange with black detailing and beige lids, also very cleanly printed. The rear license plate is a printed sticker, and the sideview mirrors have silver stickers acting as mirror glass. The interior is medium gray with a black steering wheel, and also features some nice cast-in detail like the instrument cluster shroud and glove box door on the dashboard. There is no engine, and the chassis is a simple plate with his name and series logo cast in.
Features/Accessories
As the packaging so frequently pointed out, Freddy comes with two mountain bikes. The bike frames are cast in red or yellow, with black used for the wheels, handlebars, and seats. They're very basic, but have recognizable pedals, chains, and layered wheel spokes. Both bikes snap into grooves in the roof rack, and hold well. They lack kick stands, but can be leaned over on their right pedals when out of the roof rack. In addition to the bikes, Freddy has opening doors and moving eyes. The doors are simple hinges that function smoothly. The eyes are activated by pushing down on his hood and rolling him forward. They sweep diagonally, from left/up to down/right. The internal gearing is very smooth, and works flawlessly.
Accuracy
Freddy's overall design is pretty much spot-on, though the green is much more saturated here than it was in the commercial. The bikes are also mounted differently, as they had their front wheels removed in the commercial (the wheels do pop out without much difficulty, but it makes mounting them unstable at best). Still, there's no mistaking who this is. He measures approximately 6.125" (155mm) long, 3.625" (92mm) wide, and 3.875" (98mm) tall. The bikes add another 1.875" (48mm) to his height.
Overall
Between his infectious grin and the strangely satisfying rumble of his chunky tires on any solid surface, Freddy is a very fun toy. He deviates from his animation model more than some of the other figures, but the choices that led to those deviations were all good ones. Strongly recommended.
Have a question, comment, or criticism about this review?
Send me an e-mail
with your thoughts!