Made By:
Chevron
Scale:
N/A
MSRP:
US$6.99
Overview:
Packaging (Design):
8/10
Packaging (Durability):
10/10
Casting (Body):
8/10
Casting (Interior):
8/10
Casting (Chassis):
N/A
Casting (Engine):
N/A
Paint (Exterior):
N/A
Paint (Interior):
N/A
Paint (Trim/Graphics):
9/10
Overall Panel Fit:
9/10
Total Score:
8.7/10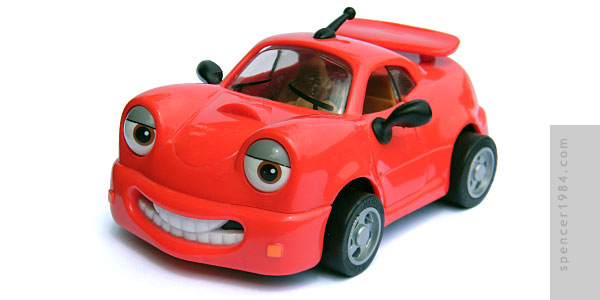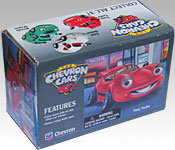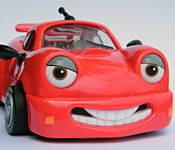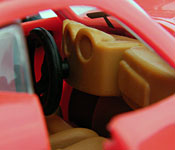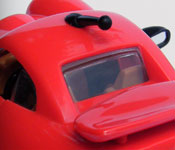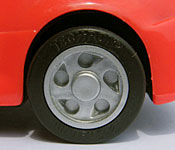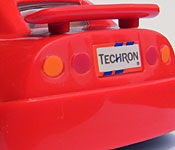 Background
In May 1995, Chevron debuted a new advertising campaign featuring animated cars extolling the virtues of Chevron's new Techron gasoline additive (Techron-enhanced fuel was among the first to be named as a "Top Tier Detergent Gasoline"). The commercials were created by Aardman Studios, using a clay animation style popularized in their Wallace and Gromit series. Chevron gas stations began selling toy cars based on Aardman Studios' designs the following year, and the third and final car of that first wave was Tony Turbo.
Packaging
The first set of Chevron Cars came in windowless cardboard boxes, approximately 6" (150mm) x 3.875" (95mm) x 3" (70mm). The front panel features a large portrait of Tony at a Chevron station off-center on a gray background. To the left of the picture is the Chevron Cars logo, features (Eyes move side to side when car moves/Doors swing wide open), and Chevron logo. The age restriction is printed twice on the picture. The bottom of the box is nearly identical, though the image is cropped a little differently, the features list is gone, and the age restriction has been replaced with "Hey what's not to like? Tony Turbo turns heads when he's on the street. He's sporty, red, and cool." Each end flap has a wider crop of Sam's portrait with no text. The top panel has the Chevron Cars logo and photos of the three original cars (Sam Sedan, Wendy Wagon, and Tony) above a big "Collect all 3!" The back panel has a photo of the toy with call outs for his moving eyes, opening doors, and wide tires, another Chevron Cars logo, the legal info, and the text "The fun keeps rollin' with Tony Turbo. Own the streets of your neighborhood and any street for that matter. When he's zippin' around town, everyone takes notice!" Sam is secured inside the box between two plastic trays, and has an "Owner's Manual" that includes instructions, a character bio, and a removable character card. Overall this packaging is the best of both worlds, protecting the car while providing a fun and unique design.
Casting/Paint
Befitting his status as a sports car, Tony is cast in bright red with black plastic mirrors and antenna, clear windows, silver 5-spoke wheels, and black vinyl tires. The casting is intentionally soft to mimic the animated cars, but has several nice details like the distinct teeth, corner marker lights, door handles, and rear spoiler. A couple of small rough edges mar the mirror housings, but everything else looks great. "Chevron/Techron" is printed on the sidewalls of all four tires. The marker lights and outer taillights are painted orange, the inner taillights are painted red, and the mouth and wipers are painted black. Everything is cleanly applied, with no evidence of slop or ghosting around the mouth. His eyes are brown with black detailing and gray lids, also very cleanly printed. The rear license plate is a printed sticker, and the sideview mirrors have silver stickers acting as mirror glass. The interior is tan with a black steering wheel, and also features some nice cast-in detail like bucket seats with lap belts and an instrument cluster with three distinct gauges. There is no engine, and the chassis is a simple plate with his name and series logo cast in.
Features/Accessories
Tony has two primary features: opening doors and moving eyes. The doors are simple hinges that function smoothly. The eyes are activated by pushing down on Tony's hood and rolling him forward. They sweep left to right as he goes forward, with no movement backing up. The internal gearing is very smooth, and works flawlessly.
Accuracy
There are a couple of deviations here from Tony's character model, but they are actually to his benefit. First, his tires still protrude past the edges of his fenders, but they aren't as exaggerated as they are on the box art. Second, he lacks the black bumper molding along his sides. The solid red sides, combined with the flying buttress rear window and tan interior, give Tony a strong "Ferrari" vibe (his name and the "Travolta á la Saturday Night Fever" accent used in his commercial help suggest an Italian heritage, too). He measures approximately 5.5" (140mm) long, 3.5" (89mm) wide, and 2.25" (57mm) tall.
Overall
Although he is no better or worse than his casemates Sam and Wendy, he is the standout of the first series thanks to his bright red color and sporty design. Visually, he's very much what Lightning McQueen would look like a decade later. A fun addition to any collection of character cars or advertising memorabilia - strongly recommended.
Have a question, comment, or criticism about this review?
Send me an e-mail
with your thoughts!