Site Features
Getting Started in the Hobby
Model Categories
Made By:
Welly (sold as FuRyu)
Scale:
1/24
MSRP:
US$15.00
Overview:
Packaging (Design):
8/10
Packaging (Durability):
7/10
Casting (Body):
8/10
Casting (Interior):
8/10
Casting (Chassis):
7/10
Casting (Engine):
7/10
Paint (Exterior):
8/10
Paint (Interior):
8/10
Paint (Trim/Graphics):
5/10
Overall Panel Fit:
8/10
Total Score:
7.5/10

Other 1980s Movie Models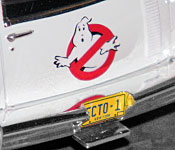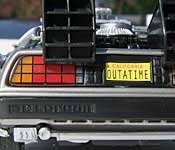 Back to the Future DeLorean
Indiana Jones and the Last Crusade Bike
The Terminator Custom Pickup
Sharky's Machine Dodge Diplomat
The Dead Pool R/C Corvette
Star Wars Speeder Bike (Review)
Tron Light Cycles (Review)
Ghostbusters Ecto-1
BTTF DeLorean (Review)
Ghostbusters 2 Ecto-1A
Gremlins VW Beetle
Smokey & the Bandit 2 Firebird T/A
Stroker Ace Thunderbird Stock Car
Tucker: The Man... Tucker (Review)
The Philadelphia Experiment Charger
Batman Batmobile
The Terminator Police Car (Review)
BTTF2 DeLorean (Review)
BTTF3 DeLorean (Review)
Who Framed Roger... Benny (Review)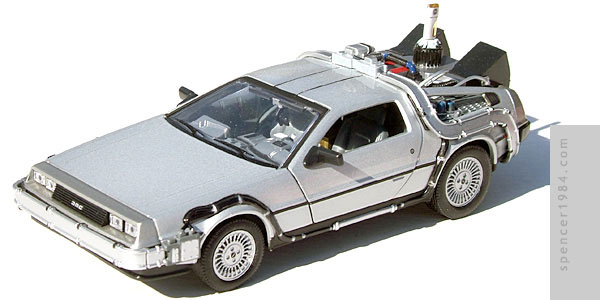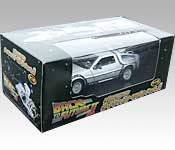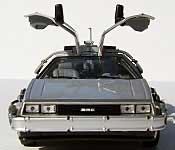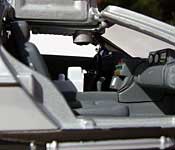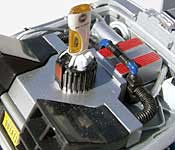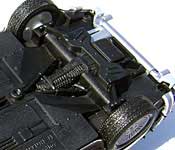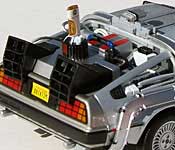 NOTE: This is a modified reissue of an existing model, and this review will focus on the changes made between the cars. You can see the original review for more details.
Packaging
FuRyu's BTTF2 box is identical to the BTTF1 version except the background has been changed from a blue science-fiction design to a black field with stars and the photos and digital text have been updated to reflect the "part 2" car. Mr. Fusion is packed separately in a plastic baggie taped to the underside of the inner tray.
Casting/Paint
The only casting change between the "Part 1" car and this is that the reactor chamber has been replaced with a Mr. Fusion unit. The main part of Mr. Fusion and the base that replaces the reactor chamber are both painted well, but there is a great deal of slop on the part between the two. The silver body paint is slightly darker on this version, but it looks like it may be a variation in the paint rather than a conscious change.
Features/Accessories
The lightning hook has been replaced with a removable Mr. Fusion. It is removable, but the DeLorean easily fits back in its box with the unit in place, so there's no need to do so.
Accuracy
Mr. Fusion is a bit too tall and thin, and the logo has been enlarged for legibility. For some reason it still sports the "OUTATIME" license plate, despite having switched to the reflective bar code plate at the end of the first movie.
Overall
Very much the weakest of the four Welly Deloreans. The Mr. Fusion unit is the only thing to differentiate it from the "Part 1" car, and thanks to the incorrect proportions and poor paint it's not really a plus. The slightly darker body paint is an improvement, but not by much. Unless you're getting the full set, this is the one to skip.
Have a question, comment, or criticism about this review?
Send me an e-mail
with your thoughts!