Made By:
GreenLight Collectibles
Scale:
1/24
MSRP:
US$24.99
Overview:
Packaging (Design):
10/10
Packaging (Durability):
10/10
Casting (Body):
9/10
Casting (Interior):
8/10
Casting (Chassis):
8/10
Casting (Engine):
N/A
Paint (Exterior):
10/10
Paint (Interior):
10/10
Paint (Trim/Graphics):
9/10
Overall Panel Fit:
10/10
Total Score:
9.3/10

Other 1980s Movie Models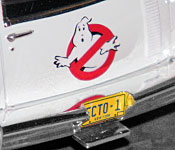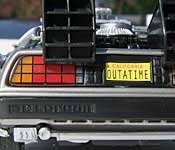 Batman Batmobile
BTTF2 DeLorean (Review)
Cobra Mercury
BTTF3 DeLorean (Review)
Gone in 60 Seconds 2 Slicer
Field of Dreams VW (Review)
Transformers Optimus Prime
Never Too Young to Die Corvette
Romancing the Stone Little Mule
The Junkman 1981 Corvette
Ghostbusters 2 Ecto-1A
Star Wars Speeder Bike (Review)
BTTF DeLorean (Review)
Ghostbusters Ecto-1
Tucker: The Man... Tucker (Review)
Ghostbusters Ecto-1 (Review)
Blues Brothers Bluesmobile (Review)
Back to the Future DeLorean
Night of the Comet 1953 Buick (Review)
Gremlins VW Beetle
Other Volkswagen Models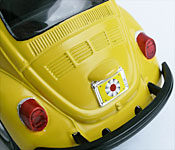 Transformers G1 Bumblebee
Jada Toys 1959 Beetle (Review)
'98 VW Golf
The Cars that Ate Paris Beetle
Gremlins Beetle (Review)
Lost 1971 Bus (Review)
Field of Dreams 1973 Type 2 (Review)
Ninja Cheerleaders Beetle Cabriolet
The Love Bug Herbie
Gremlins Beetle
Transformers G1 Ladybug
Alone in the Dark VW Touareg
Chevron Cars Rudy Ragtop (Review)
Jada Toys 1962 Bus (Review)
Interstellar Pig Cabriolet
Herbie Rides Again Herbie
Little Miss Sunshine 1978 Bus (Review)
'98 VW Beetle
Urashiman Magna Beetle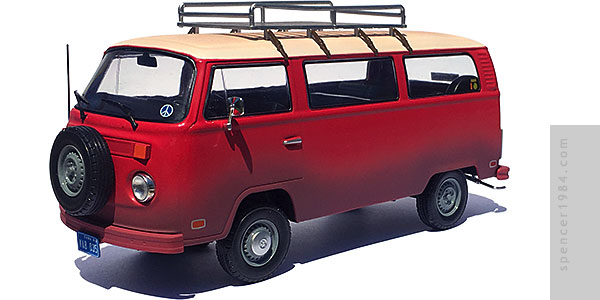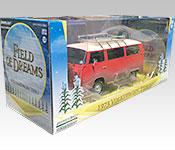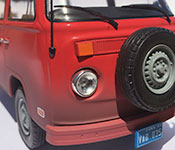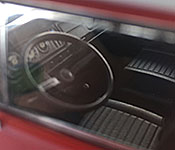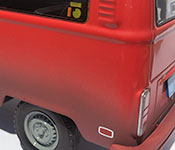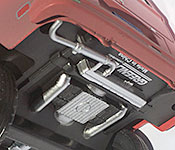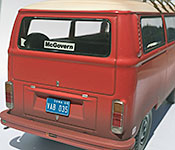 Background
When Ray Kinsella hears a ghostly voice in his Iowa cornfield, it sets the ball rolling for a series of incredible but nevertheless accurate psychic visions. One of those prompts Ray to visit the reclusive Terence Mann, a former radical writer who has grown embittered with life. True to their history as protesters during the 1960s, the Kinsellas' van is a well-worn but still reliable Volkswagen that comfortably makes the trip from Iowa to Massachusetts to Minnesota and back again.
Packaging
GreenLight has moved to a much larger box for their VW Type 2, though the overall layout is the same as it has been for previous cars. Under the main window on the front of the box is the GreenLight Hollywood logo, "1973 Volkswagen® Type 2," and "Adult Collectible." Stylized corn stalks as seen in the Field of Dreams poster cut into the lower corners of the window, and "Limited Edition/1:24" is in the top right corner. The top of the box has the GL logo, movie title, and a repeat of the "Limited Edition..." from the front panel. Each end flap is essentially the movie poster, with the title replacing the portrait of Kevin Costner and the text from the front panel rearranged around the edges. The back takes the end flap design and uses it over the lower half of the poster. The bottom has the required legal info. Inside, a printed backdrop repeats the outside of the package. The van itself is held within a single plastic tray via two twist ties. Although it's arguably oversize for the Type 2, the box has a great presence and displays the vehicle clearly while also keeping it safe and easy to get in and out of the package.
Casting/Paint
As with their Blues Brothers Monaco, this represents a well-used rather than pristine ride. That's usually a tricky thing for any manufacturer to pull off, but GreenLight has done an excellent job here. It helps that the Kinsellas' van was generally pretty well-kept, so things like dents and missing parts wouldn't be an issue. Instead we have a straight casting with nicely defined panels and a two-tone red and off-white appropriately weathered with road grime. Plastic parts are used for the various details, including chrome plated light bezels and mirror, body matching front vent and bumpers, silver roof rack with brown painted tie down straps, black wipers and antenna, and clear headlights and windows. Black paint accents the window gaskets, silver is used for the door handles and side marker bezels, and orange and red are used for the lenses for the front and rear side marker lights, respectively. A round peace symbol is placed in the lower corner of the windshield, a McGovern campaign sticker is at the center bottom of the rear window, and the rear side window and back window have four more small stickers that appear to have been worn and faded to the point of illegibility. A white-on-blue Iowa VAB-035 license plate is mounted at each end, and after some problems with undersized plates, it's nice to see that these are correctly sized.
The interior is black with printed gauge faces and painted controls. These details are simple but perfectly executed, with no registration or coverage problems. Seats and door panels are all correctly textured. The chassis is simple but appropriate for a Type 2, with decent detailing for the frame and a separate muffler with tailpipe. They even included some paint for the bottom of the engine and exhaust. All five wheels are grey with vinyl tires, and the left front still wears its original hubcap.
Features/Accessories
This is the only area where the VW comes up short, but when it looks this good a lack of extra gimmicks is no loss.
Accuracy
There is really only one flaw I can see, in that the shape of the vents behind the rear side windows seems off. This may be something that could be helped with some extra paint, but even as-is the nitpick is pretty small. Otherwise GreenLight has nailed not only the size and shape of the Type 2, they have the correct details for Field of Dreams with high-mounted front marker lights, single sideview mirror, and ribbed bumpers. Scaling is a near-perfect 1/24.
Overall
When this and the Lost VW were released at the same time, I was expecting a simple repaint and an extra roof rack for that wagon. I was not expecting GreenLight to actually go the distance and give each one unique details that went beyond the superficial. That they pulled off both of them so well is a testament to what they're capable of doing. Very highly recommended.
Have a question, comment, or criticism about this review?
Send me an e-mail
with your thoughts!