Made By:
Jada Toys
Scale:
1/24
MSRP:
US$24.99
Overview:
Packaging (Design):
8/10
Packaging (Durability):
8/10
Casting (Body):
8/10
Casting (Interior):
7/10
Casting (Chassis):
7/10
Casting (Engine):
9/10
Paint (Exterior):
8/10
Paint (Interior):
N/A
Paint (Trim/Graphics):
8/10
Overall Panel Fit:
7/10
Total Score:
7.8/10

Other Cartoon & Anime Models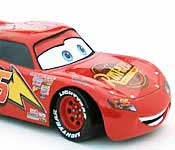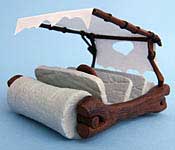 Zootopia Police Cruiser (Review)
101 Dalmatians Cruella's Car (Review)
Chop Socky Chooks Cars (Review)
Max Steel Jet Racer (Review)
F&F: Spy Racers Thresher (Review)
Grendizer Duke Buggy (Review)
Planes 2 Firefighter Dusty (Review)
Turbo Teen
Danger Mouse Mk III
Ghost in the Shell Motoko Kusanagi
Tekkonkinkreet Colt Galant
Planes Dusty Crophopper (Review)
Betty Boop '39 Chevy Deluxe (Review)
Roadster Racers Minnie (Review)
M.A.S.K. Manta
Freedom Project Tricycle (Review)
Big Hero 6 Baymax (Review)
Tiger & Bunny Double Chaser (Review)
M.A.S.K. Thunderhawk
Who Framed Roger... Benny (Review)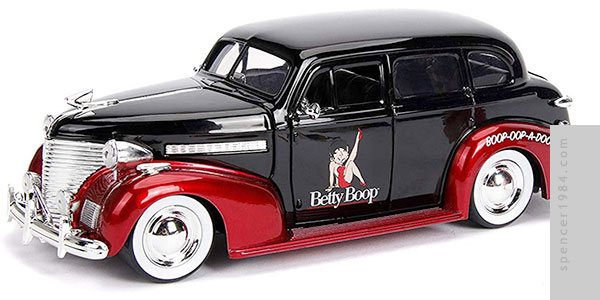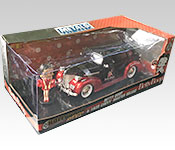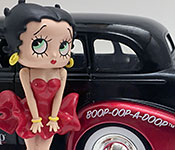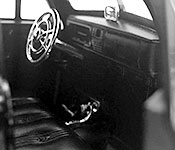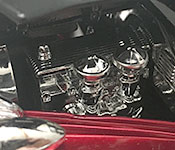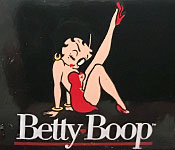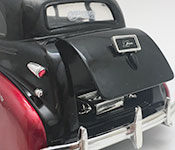 Background
First appearing in 1930's Dizzy Dishes, Betty Boop started out as an anthropomorphic French poodle and companion to the already established studio star Bimbo. She was originally the creation of animation pioneer Max Fleischer, with contributions by Grim Natwick, Berny Wolf, Otto Feuer, Seymour Kneitel, "Doc" Crandall, Willard Bowsky, and James "Shamus" Culhane to transform Betty from that original design to the famous (and fully human) look we know today.
Packaging
As part of the Hollywood Rides series, this is packed in the standard box with the text and graphics updated where needed. In this case, the text under the main window now says "Betty Boop & 1939 Chevy Master Deluxe," a portrait of Betty is at the right side of the front panel next to the window, and her name is spelled out under the picture and on both end flaps. Jada didn't bother with co-sells on the back, opting instead to feature a large photo of the car and figure above the multilingual instructions. Inside is a heart-and-polka dot motif with the car held in place via two screws and plastic bands around the hood and doors keep them closed. A plastic tray around the rear of the car keeps the trunk closed. Betty Boop is screwed to the base near the front of the car.
Casting/Paint
The '39 Chevy has been around for a bit, and is starting to show a little mold fatigue. Panel lines aren't quite as defined as some newer cars, and there are some minor assembly issues like the headlights not quite lining up with each other. Still, there are few problems and Jada chose some smart colors to help lessen their effect. The body, hood, doors, and trunk lid are all diecast. The bumpers, grilles, light housings, hood trim, sideview mirrors, and license plate bracket are chrome plastic. The front lights and windows are clear plastic. The body is painted gloss black with candy red fenders and running boards, split at the assembly joint so that the edge between colors is nice and crisp. A few small dust motes and some orange peel in the roof hold it back from getting a higher technical score, but the overall look is artistically appealing. Each door has an image of Betty above her name, and "Boop-Oop-A-Doop™" is printed in white on each rear fender. Jada's own "Hollywood Rides" logo is printed in white on the rear window, and the license plate features a chrome and black Jada 20TH anniversary logo.
Under the hood is a chrome I6 with outstanding detail work including a separate dual carb intake manifold. The interior is all black with bright chrome used for the steering wheel, shift lever (broken on mine), pedals, and rear view mirror. Underneath is a fairly decent chassis with basic but recognizable detailing and a pair of chrome exhaust tips. The wheels are bright chrome hubcaps with soft vinyl whitewalls.
Features/Accessories
The hood, doors, and trunk open, with the hood featuring a correct longitudinal hinge. The trunk doesn't open very far, just enough to see that there are some chrome greebles on the floor but not quite far enough to confirm what they are. A 1/24 Betty Boop figure is also included, standing in the famous Marilyn Monroe "subway grate" pose with her hands held straight down to keep her billowing skirt from showing too much. Either Jada has finally gotten the knack of creating female figures with good sculpting and paint, or Betty lends herself to the medium more than the Bombshells. Either way, she looks great with no casting problems and excellent paint work.
Accuracy
This is not based on an existing design, but is instead a "character car" that simply uses an existing tooling with a new paint job to evoke a persona. It may just be coincidence, but in 1939's Rhythm on the Reservation Betty did in fact drive a car with her name painted on the sides.
Overall
The most obvious comparison here is to Jada's recent DC Comics Bombshells series. This isn't quite as nice due to some problems like the wonky headlights and busted shift lever, but overall it's not a bad car. The figure is above average, and the fact that a 1939 car could have legitimately been one of Betty's original rides gives it a little boost as well. Not a must-have, but if you're a Betty Boop fan it won't disappoint.
Have a question, comment, or criticism about this review?
Send me an e-mail
with your thoughts!