Made By:
JoyRide Studios (RC2)
Scale:
1/24
MSRP:
US$17.99
Overview:
Packaging (Design):
8/10
Packaging (Durability):
4/10
Casting (Body):
9/10
Casting (Interior):
7/10
Casting (Chassis):
4/10
Casting (Engine):
N/A
Paint (Exterior):
9/10
Paint (Interior):
8/10
Paint (Trim/Graphics):
4/10
Overall Panel Fit:
10/10
Total Score:
7.0/10

Other Video Game Models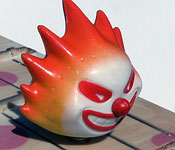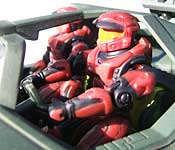 Portal 2 Defective Sentry
Twisted Metal Sweet Tooth (Review)
MarioKart DS B-Dasher (Review)
SpyHunter Lamborghini Diablo
MarioKart DS Royale (Review)
Fortnite Figures
Real Drift Corvette Z06
HALO 4 Warthog (Review)
Metallo
Borderlands 3 Claptrap (Review)
HALO 2 Warthog (Review)
Ghostbusters: The Video Game Ecto-1B
Need for Speed '69 Charger (Review)
Arkham Knight Batmobile (Review)
Need for Speed Audi R8 (Review)
Lamborghini American Challenge Diablo
Mega Man 66 Action Vol. 2 (Review)
Star Fox 64 Arwing (Review)
Half-Life 2 Muscle Car
SpyHunter 2 Saleen S7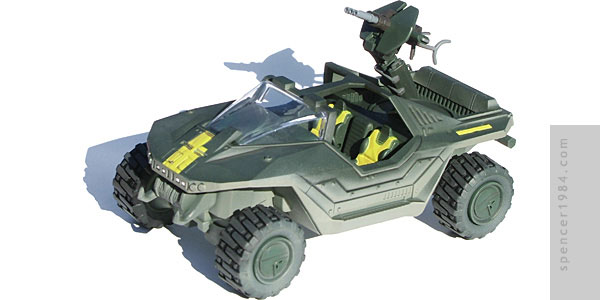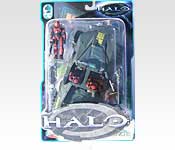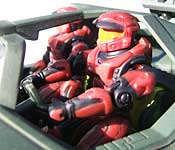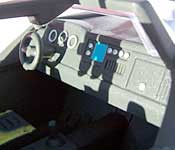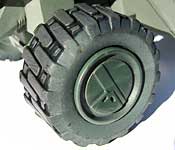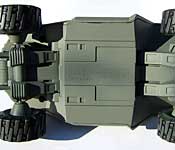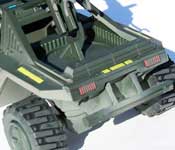 Packaging
Unlike most 1/24 scale vehicles, JoyRide packaged the Warthog on a blister card instead of in a box. While it allows for a wider viewing angle, it makes storage much more difficult and restoring the overall package nearly impossible. The cardback features a landscape background with the series number, Halo logo, product description, age restriction, JoyRide logo, and Bungie logo creating a frame. The bottom of the blister holds a much larger Halo logo on an oval card. The back of the card has a writeup about the Warthog, a repeat of all of the logos plus logos for Microsoft Game Studios and RC2, CGI pictures of the complete figure series (Master Chief, Marine, Grunt, Elite, and Warthog), and the legal info. In a very nice touch, they also provide a credit to the sculptor, Ching Tung Wah. The Warthog is held in a plastic inner tray with two twist ties, two of the figures are twist-tied into the seats, and the third figure, MA5B assault rifles, and 102mm SC-HE rocket turret are packed in separate pockets in the same inner tray.
Casting/Paint
JoyRide has done a reasonable job creating a sharp casting with well-defined panel lines, good part interaction, and an overall smooth finish. A few details are a bit heavy, particularly the suspension system. To accommodate the working springs, they've made the undercarriage nearly solid, which damages the overall look of the vehicle. The front winch and interior components are also a bit crude, which unfortunately stand out in this open-topped vehicle. The main body is cast in green plastic, with a clear windshield and black vinyl tires. Weathering has been created with a light mist of brown along the bottom half of the Warthog, and the effect is very good. The painted stripes don't look as good, thanks to a heavy hand applying a wash and leaving strong brush strokes. The headlights, taillights, rocket launcher, and interior parts are all pretty good, except the same heavy-handed weathering shows up on the seat cushions.
Features/Accessories
The Warthog features working front and rear suspensions (live axles at both ends: you can't really get it onto three wheels), a rotating turret, and an elevator hinge on the turret. It also comes with three figures, listed as "Master Chief and two marines" though all three figures are identical. These figures are hinged at the neck, shoulders, elbows, waist, hips, and knees, and can be posed in the Warthog or they can hold their assault rifles. Their range of movement is good enough that you can get them to do most of what they need to, like grasp the steering wheel while in the driver's seat or hold the grips while at the turret. They have to hold their rifles by the ammo pack instead of the grip, but don't look too closely and the illusion is pretty good.
Accuracy
The Warthog is a pretty unmistakable design, and JoyRide has captured the overall look very well. As mentioned above, the suspension components are oversized and the fully enclosed chassis make the Warthog look a bit too heavy. There also seems to be a problem with the vehicle designation: the SC-HE rocket turret was only mounted on the M12A1 LAAV (Light Anti-Armor Vehicle), not the M12 LRV (Light Reconnaissance Vehicle) as listed on the package. Also, the M12A1 LAAV should have been painted black, not green (though the stripe and seats appear to be correct). Scaling is way off from the stated 1/24, more like 1/30 for both the figures and the Warthog. In 1/24 scale, this Warthog only measures 16 feet long - reasonable for a full size vehicle, but four feet short of the Warthog's official length of 20 feet.
Overall
At a glance, the Warthog actually looks pretty good. A few problems start showing up the longer you look at it, indicating that JoyRide may have cut a few too many corners when they produced it. Nearly everything is fixable if you were willing to put some work into it, but don't count on this being a flawless replica right off of the card. Recommended only if you find it for a good price. They were a bit overpriced to begin with (they probably would've been a good $8 - $10 value when they were first released in 2004), and the secondary market has inflated the price even further.
Have a question, comment, or criticism about this review?
Send me an e-mail
with your thoughts!