Made By:
Jada Toys
Scale:
1/24
MSRP:
US$24.99
Overview:
Packaging (Design):
9/10
Packaging (Durability):
8/10
Casting (Body):
8/10
Casting (Interior):
8/10
Casting (Chassis):
8/10
Casting (Engine):
8/10
Paint (Exterior):
7/10
Paint (Interior):
N/A
Paint (Trim/Graphics):
7/10
Overall Panel Fit:
8/10
Total Score:
7.9/10

Other Cadillac Models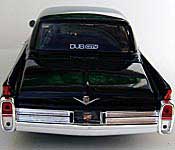 The Real Ghostbusters Ecto-1
3000 Miles to Graceland '59 CDV
Ghostbusters Ecto-1
Elvis '55 Fleetwood (Review)
Ghostbusters Ecto-1 (Review)
ZZ Top CadZZilla
'83 Presidential Limo (Review)
Nightmare on Elm St '58 S.62
'38 Presidential Limo (Review)
The Godfather '55 Fleetwood (Review)
Ghostbusters 2 Ecto-1A
'63 Series 62 (Review)
Ghostbusters: The Video Game Ecto-1B
Nightmare on Elm St '58 S.62 (Review)
Other Music Models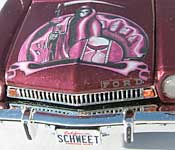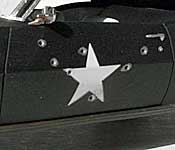 Elvis '55 Fleetwood (Review)
"Stylo" Camaro
Pretty Fly (for a White Guy) Ford Pinto
ZZ Top CadZZilla
Land of Confusion Tank
The Night is Still Young Lamborghini
Bang Bang Challenger
Little Old Lady from Pasadena Dodge
Hot for Teacher '32 Ford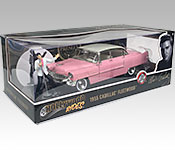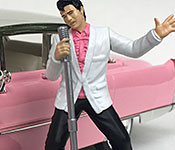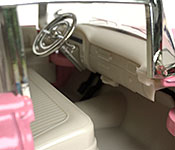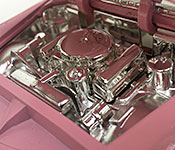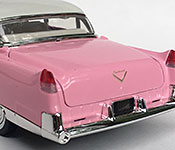 Background
On July 7, 1955 Elvis purchased a brand-new 1955 Cadillac Fleetwood Series 60 in blue with black roof as a replacement for the Cadillac that caught fire the previous month on the road between Hope and Texarkana. His neighbor had created a special pink that he called 'Elvis Rose,' and this became the new color for the '55 (though the roof would remain black until a later refreshing, likely in early '56). Despite serving several years on the road - including at least one serious accident - the pink '55 survives today and is on permanent display in the auto museum at Graceland.
Packaging
Another variant of Jada's Hollywood Rides packaging, this time without the red band near the bottom of the box and Elvis' portrait forming the right edge of the front window. "1955 Cadillac Fleetwood" is in dark gold text under the window and one end flap, while his signature is in the same color under the portrait and on the other end flap. The back of the box has photos of this and the purple '56 Caddy. The inside is a clean black with a "Presley Motors" sign printed in the center of the back wall in the same dark gold as the other text. The Elvis figure is screwed to the base near the front of the car, with a cardboard standee behind him made to look like a spotlight with his silhouette. It's a neat effect, and the overall presentation here is slicker than the usual Hollywood Diecast car without being so far afield as to look out of place.
Casting/Paint
Generally good work all around, though with a few problem spots that hold it back. The metal body is generally clean and sharp, though the seam where the hood meets the cowl isn't as smooth as one would hope. Other panel lines look terrific, including the complex closes around the front of the doors and hood. It's just that one edge of one panel that isn't great. Similarly, the paint is smooth and glossy, with a nice even finish and no sign of dust, ghosting, or thin spots...but there are two big chips on the lower edge of the trunk opening. Trim is a combination of plated plastic and paint, and what's here is excellent with bright finishes on all the plating and near-perfect edges and registration on the printing (including some very clever paint on the door handles to make them look less like cast-in parts). But there are a few places where the cast-in trim has been skipped altogether, like the taillight bezels, rear fender trim, trunk lock, and rear fascia. Clear plastic is used for the headlights, parking lights, windshield, rear door and back windows, and taillights. The latter has red paint applied to the top area to create Cadillac's distinctive P-38-inspired fins. The rear plate is either a thin sticker or a printed element, with a gold "ELVIS" against a black background.
The engine is Jada's usual all-chrome affair, with separate parts for the radiator hose and air cleaner to give it a little extra depth. The interior and trunk are cast in a milky off-white plastic that looks better than it sounds, with nice detailing on the seats, dash, and door panels. A little paint would have helped, as the only thing to break up the interior is the chrome plated steering wheel/column, chrome pedals, and speedometer decal. The chassis is a single piece but nicely done in black plastic with detailed dual exhausts, engine and transmission bottoms, and full frame. It lacks fender liners, which when combined with Jada's usual roller-ready wheel wells means you can see a fair bit of the inside of the body and interior.
Features/Accessories
The hood, doors, and trunk open on nice, smooth-working hinges. A 1/24 Elvis Presley figure is also included, posed leaning into a mic with his left arm and hand extended. It's a pretty good likeness, though I don't recognize the white jacket/pink shirt/black pants combo.
Accuracy
This is a faithful representation of Elvis' famous pink Cadillac, with good proportions, generally neat fit and finish, and an overall nice presence. I would have liked to see more of the chrome elements finished, but that would be easy enough to fix for anyone who wants to do so. The only thing I see that's "wrong" is the Elvis signature at the top center of the windshield. Scaling is maybe a hair small, but right around 1/24~1/25.
Overall
Jada has produced an imperfect but still nice replica of what has been called "the most famous car in the world." With a little extra work it could be a real knockout, and could even nudge out GreenLight's excellent replica by virtue of being a more correct scale. Given its appearance in other media, it would make a great addition to your collection whether you're looking for Elvis memorabilia or another TV/movie car.
Have a question, comment, or criticism about this review?
Send me an e-mail
with your thoughts!