Site Features
Getting Started in the Hobby
Model Categories
Astromech Droids
Labor/Service Droids
Medical Droids
Military Droids
Protocol Droids
Starship Droids
Other Droids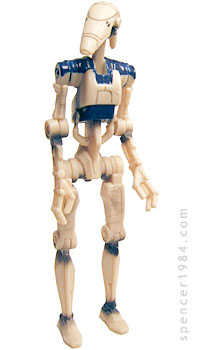 This was a very simple modification of a stock Battle Droid. I removed the backpack and shaved the shoulder ridges to match a packless droid, then painted it as a Pilot type Battle Droid and gave it a black wash.
Have a question, comment, or criticism about this model?
Send me an e-mail with your thoughts!