Site Features
Getting Started in the Hobby
Model Categories
Astromech Droids
Labor/Service Droids
Medical Droids
Military Droids
Protocol Droids
Starship Droids
Other Droids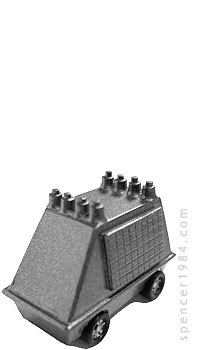 This droid was completely scratchbuilt from sheet styrene and parts bin pieces. It was built to scale with the rest of the Star Wars figures; the wheels are from a Hot Wheels Micro Universe car, and the droid measures less than an inch from end to end.
Have a question, comment, or criticism about this model?
Send me an e-mail with your thoughts!