Site Features
Getting Started in the Hobby
Model Categories
Original Kit:
1964 Galaxie 500
Made By:
AMT (kit #30265)
Scale:
1/25

Other 2010s Movie Models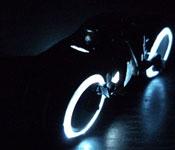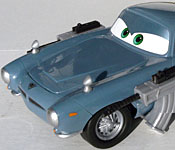 Dark of the Moon Leadfoot
Furious 7 '70 Charger
LEGO Batman Batmobile
Need for Speed 2014 Mustang (Review)
Furious 6 '69 Mustang (Review)
Furious 6 '69 Charger Daytona
Drive '73 Chevelle
F8 of the Furious Ripsaw
Fast 5 Nissan GT-R (R35)
Safe Crown Victoria
The LEGO Movie Cycle
LEGO Batman Ultimate Batmobile
Furious 7 '72 'Cuda
Furious 7 Off-Road '67 Camaro (Review)
Jurassic World Mercedes-Benz G550
Edge of Tomorrow Sgt Vratraski
Furious 7 '70 Charger (Review)
Deuce of Spades '32 Ford
Born 2 Race Subaru Impreza WRX STi
Cars 3 Lightning McQueen (Review)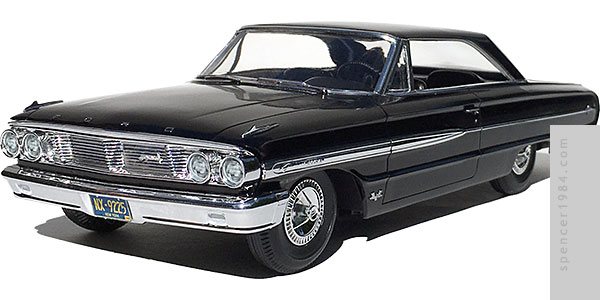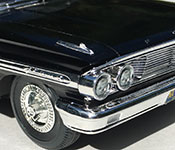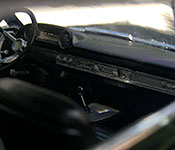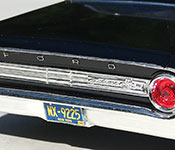 This was more or less the same kit as the Blueprinter version I used to make the Redline 7000 Galaxie, but while I replaced or reworked every part for that build I tried to keep this one as close to box stock as possible.
Doing that made the chassis and interior particularly easy, thanks to the kit's origin as a promo with a very limited parts count. The only modification I made was to replace the shift lever with a MIB-inspired eight ball, otherwise some black, silver, and a little bit of chrome was all it took to get these parts presentable.
There was one other change, sort of. I ended up using the wheels from the previous kit, since the tires in this one looked great from the outside but where they mounted to the wheels was both too small and off center. After much fighting I finally got two mounted to find that one was fine and the other had the hubcap sticking out past the sidewall. Closer inspection of the remaining two showed that they'd be more trouble. But for some reason, the Blueprinter kit had two-piece wheels, eliminating all of the problems I had run into with these single-piece wheels. So I disassembled the two I had done and used all four from the Blueprinter.
I cleaned up the body of any parting seams and sink marks, then sprayed it Tamiya TS-14. The Blueprinter kit came in handy once again when it was time to do the trim, as I discovered that the right fender slot wasn't merely snug, but actually undersized. Trying to seat the fender spear deformed the chrome, so I backed it out, enlarged the hole, and used one of the spares I had left over. The rest of the trim was done with a combination of Bare Metal Foil and Molotow Liquid Chrome.
Two final details were my own creations: the headlights were redone with a set of my standard decals, and the license plates were custom prints.