Site Features
Getting Started in the Hobby
Model Categories
Astromech Droids
Labor/Service Droids
Medical Droids
Military Droids
Protocol Droids
Starship Droids
Other Droids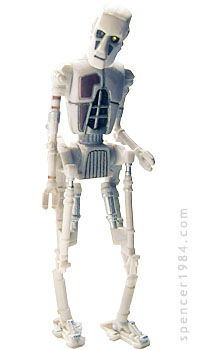 This figure remains nearly original, except for some repainting. I painted the face and torso in darker shades and weathered the droid with charcoal to give it a darker, more realistic appearance. The eyes are not actually lit, but have a translucent panel through the back of the head to light up the eyes when backlit.
Have a question, comment, or criticism about this model?
Send me an e-mail with your thoughts!