Original Kit:
1960 Chevrolet Custom Fleetside
Made By:
AMT/Ertl (kit #6310)
Scale:
1/25

Other 007 Models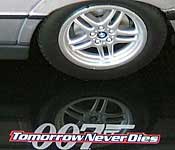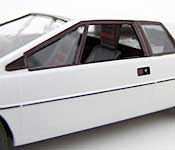 Diamonds are Forever Mustang
The Spy Who Loved Me Lotus
The World is Not Enough BMW
From Russia with Love Chevrolet Truck
Tomorrow Never Dies BMW (Review)
Dr. No Sunbeam Alpine
Other 1960s Movie Models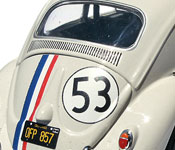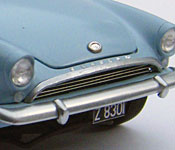 Batman Batmobile
2001: A Space Odyssey Monolith
Batman Batmobile (Review)
Fireball 500 Kustom Barracuda
From Russia with Love Chevrolet Truck
Hot Rods to Hell Corvette
Spinout Shelby Cobra (Review)
Batman Batmobile (Review)
101 Dalmatians Cruella's Car (Review)
The Love Bug Herbie
The Graduate Alfa Romeo
The Dirty Dozen Jeep
The Great Escape Bike
Bullitt Charger
Bullitt Mustang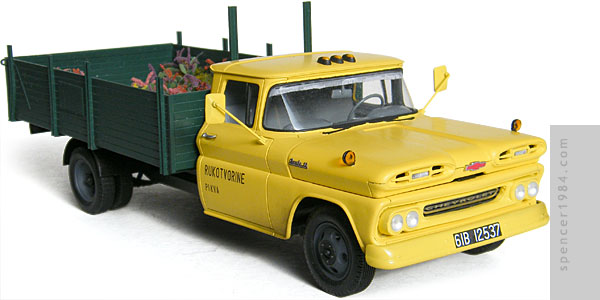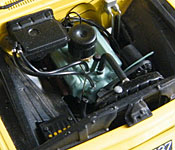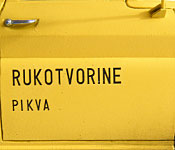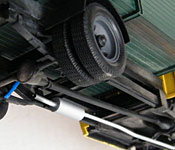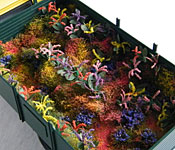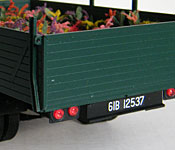 Cool Fact
In the scene where James Bond and Tatiana Romanova escape from the Orient Express, this truck is represented by a mid-1950s Dodge. Quick camera shots and the low lighting of the scene helped hide the stand-in.
I always try to research vehicles before I start building models of them, but sometimes that's more difficult than others. 1969 Charger? That's easy. 1967 Mustang? No problem. G5 Camaro? All the reference I could want is at a local dealer. Early 1960s eastern European Chevrolet 1-ton truck? That's a little harder. I gathered as much information as I could, but in the end I still had to make a number of guesses to complete this model.
The starting point was easy enough: I had previous experience with AMT's '60 Chevy Fleetside, so I knew what to expect there. The cab interior stayed pretty much box stock this time, with only the addition of hanging fringe around the top of the windshield. This was made by stripping the long threads from a piece of ribbon and gluing it to the leading edge of the headliner.
The cab exterior was generally pretty simple, too. I had to update it from the kit's 1960 version to the movie's 1961. This was easy enough thanks to Model Car Garage's photoetch set, which included the correct grille, hood details, and trim. I had to scratchbuild new mirrors to match the movie design. Once assembled, I painted everything Model Master Daytona Yellow and added custom decals. The roof lights were originally from AMT's '72 Cheyenne kit, and the hood lights were left over from my Optimus Prime.
Once the cab and interior were done, I was into kitbashing/scratchbuilding territory. The chassis had to be extended to match the movie's extra-long wheelbase, and the rear end had to be converted from trailing arms to leaf springs. The extension was done with strip styrene, and the springs were modifed from a '69 Camaro. More styrene was used to create the box frame, driveshaft, and chassis braces. The wheels came from a diecast Ford tow truck, which were a near perfect match for what was used on the 1:1 truck. The rears were topped with fenders made out of sections cut from a prescription pill bottle. The taillights were a combination of more semi truck components and parts box items. My parts box also supplied the small block V8, painted to look like a vintage Taskmaster. A scratch built exhaust and parts box shocks finished off this part of the build.
Finally, I scratch built the cargo box from sheet styrene. Siding was used for the main box, channel was used for the braces, and flat styrene was used for the remaining details. I based this primarily on measurements taken directly from the movie, though with no clear profile views and no rear views at all, I also used Corgi's 1/43 scale diecast for inspiration (the proportions of this diecast are way off, but there were a lot of good details that I could use). The box was painted Hunter Green and mounted on the rear of the chassis.
Filling the box with flowers was a unique challenge. I started with a base of model railroad turf, which provided some grass and the purple flowers. I then added a layer of green filler, which filled things in and provided a place to mount the individual flowers. Everything was then sprayed with Dullcote, and while that was still wet I sprinkled in some colored sand. The sand absorbed the Dullcote, which sealed things together and provided a final layer of colored flower buds. Once this was done the whole truck received a light overall weathering and a set of movie-accurate license plates.