Site Features
Getting Started in the Hobby
Model Categories
Original Kit:
Harley-Davidson 2000 FLSTF Fat Boy
Made By:
Maisto
Scale:
1/24

Other Motorcycle Models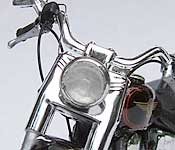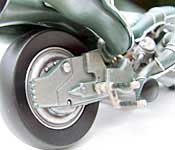 Transformers: RID Sideways
Tron Legacy Sam's Light Cycle
The Walking Dead Chopper
Indiana Jones and the Last Crusade Bike
Kamen Rider W Accel Gunner

The Mouse and the Motorcycle Bike
Kamen Rider Cyclone
Final Fantasy VII Motorcycle (Review)
Tron Light Cycles (Review)
Kamen Rider Hurricane
Other 1990s Movie Models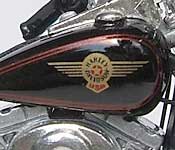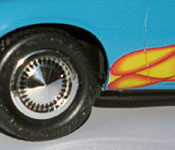 Batman Returns Batmobile (Review)
Short Time Dodge Diplomat
ID4 1971 Chevy C-10 (Review)
The Chase 325is
Bedazzled Lamborghini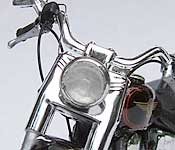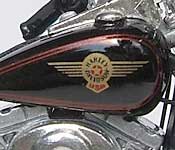 Cool Fact
The bike jump into the storm drain was performed by stuntman Peter Kent. The motorbike was supported by one-inch cables, so that when they hit the ground, the bike and rider only weighed 180 pounds. The cables were later digitally erased.
This is my second motorcycle model, and the first one that I have tried detailing. As such, I didn't superdetail it, focusing instead on cleaning up what was there and adding some basic bike details like brake, cutch, and throttle cables and ignition wires. I also carved out the cast-in headlight and replaced it with a clear lens from my parts box. To make it match the Harley shown in T2, I also removed the turn signals, added mirrors, replaced the taillight, redid the exhaust pipes, made a movie-accurate license plate, and added saddlebags (made from LEGO backpacks).
The paint was close to what was shown in the film, but I had to redo the pinstriping and do a lot of detail work. This included the wheels, engine block, forks, brakes, levers, and grips. I also removed the parting seam down the back of the rear fender and repainted it. Bare Metal Foil was used to detail the speedometer bezel, gas caps, taillight bezel, and engine components like the air cleaner. It was also used to repair any place where I modified chrome plated components like the mufflers.