Original Kit:
1993 Ford Ranger Splash
Made By:
AMT/Ertl (kit #8944)
Scale:
1/25

Other Classic TV Models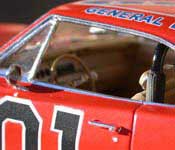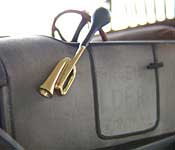 Knight Rider KITT
Beverly Hillbillies Truck
Stingray 1965 Corvette
1966: Batman (Review)
Doctor Who TARDIS
V.I.P. Jaguar
Blue S.W.A.T. Striker EX (Review)
Birds of Prey Hummer
Batman Batmobile
Dukes of Hazzard General Lee
Riptide 1960 Corvette
Scooby Doo Mystery Machine
Batman Batmobile (Review)
Highway Patrol Buick
Danger Mouse Mk III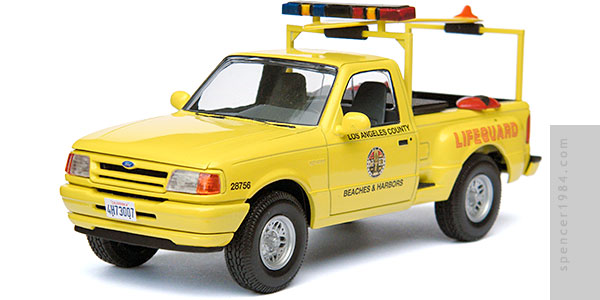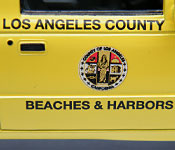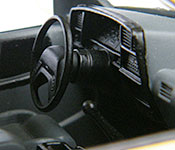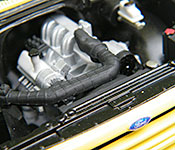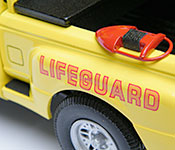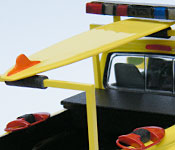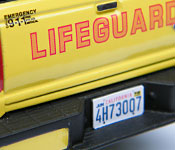 There actually was an official Baywatch model kit available in the mid-90s, but it was during Lindberg's weird phase of making all their trucks 1/20 scale and so I passed. Another option was available for a screen-accurate pickup in my preferred scale, though: AMT's Ford Ranger Splash. Aided by the February 1995 issue of Scale Auto Enthusiast and its review/buildup of the kit, I went to work.
Most of the build was pretty straightforward. I replaced the plastic half-tire spare with an extra full tire from my parts box, used the kit's optional suspension lift blocks, and took the wheels from a Ford Ranger promo. The truck's tires were more parts box items. Because this represents a new truck serving duty in SoCal, it was painted with mostly gloss colors: the chassis is straight black, the engine is various shades of silver and steel, and the body is Testors Bug Yellow. The interior was painted Krylon gray primer and black, followed by a shot of clear to look like new/Armor-Alled vinyl. The missing rubber treads on the sides of the box were made from Plastruct metal siding, cut to match the templates supplied in the old issue of SAE.
Once the base work was done, it was time to work on the details. The box was masked off and sprayed satin black to represent a fitted bed liner. The racks were made from .080" square styrene, with .020" flat styrene for the gussets. The light bar was modified from an Ecto-1A part. I considered buying a set of rescue cans from the Lindberg kit, but after checking their size I decided they were too big. A little more checking brought up the rescue cans that were sold with some LEGO sets, and as I've previously discovered there are some LEGO parts that can be integrated seamlessly with models. The only problem with the rescue cans was their handles, which were oversized to accommodate minifig hands. I cut these off with a Dremel, rounded the cut off edges, and made new handles from thick floral wire. While the result isn't perfect, they do look pretty close. I couldn't find tool box that I liked, so I made one by laminating sheets of .080" styrene to make the lid and upper part of the box, then adding .250" styrene underneath to make the body. The whole thing was sprayed with Make It Suede to give it a textured plastic look, then painted satin black. Finally, the surfboard was taken from AMT's '41 Ford Woody kit and mounted on pads made from strips of gaffer's tape.
The last detail of the build were the markings, which I drew up in Illustrator and printed onto clear stock (with the exception of the Ford badges - those were purchased online). The door badges were placed over white circles, while the orange "Lifeguard" markings were done using the same method I used on Gearhead: the decals were printed in shades of magenta, so that when they were put over the yellow body they appeared orange. License plates were the usual card stock prints.