Site Features
Getting Started in the Hobby
Model Categories
Original Kit:
Fortnite Stampers
Made By:
P.M.I. Ltd
Scale:
N/A

Other Video Game Models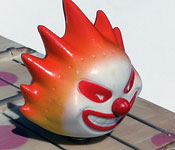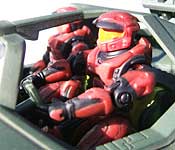 Twisted Metal Sweet Tooth (Review)
LEGO Dimensions Ecto-1
Need for Speed Mustang GT (Review)
Portal 2 Defective Sentry
Real Drift Corvette Z06
Mario Kart 8 Sports Coupe (Review)
Borderlands 3 Claptrap (Review)
Arkham Knight Batmobile (Review)
Metallo
LEGO Batman Batmobile
Ghostbusters: The Video Game Ecto-1B
HALO 2 Warthog (Review)
HALO 4 Warthog (Review)
Need for Speed Murciélago (Review)
Star Fox 64 Arwing (Review)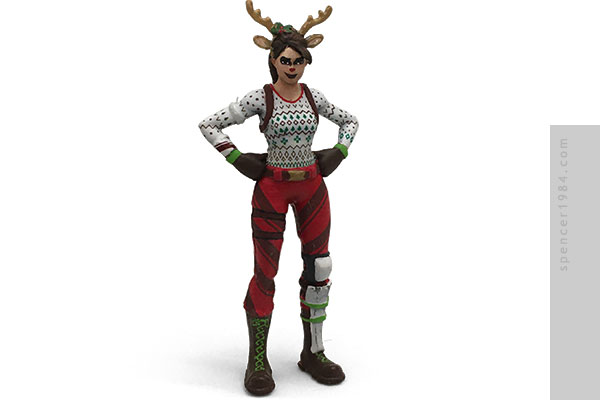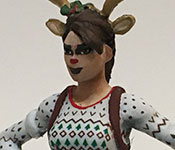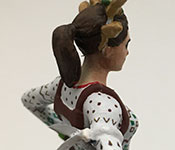 I ran across these stampers at a CVS pharmacy one day, and was pleasantly surprised to see that they were very close to 1/24 scale. Since I had recently been trying out figure painting, it was a good opportunity for me to do some practice without spending a ton of cash.
The first one I tried was the Red-Nosed Raider. Aside from being thematically appropriate (being Christmastime and all), she would require a good mix of techniques both new and familiar to get me started. After removing her from the stamper base, I cleaned up the parting seams as best I could and refit her hair to sit more correctly on her head. She then got a base coat of black primer to cover the existing colors, followed by gloss white to act as a base and start work on the shadows. The ugly sweater was made using a combination of paint and decals, as were the stripes on her pants. The rest of the details were made with a combination of ink, paint, and Tamiya weathering effects. Her face was painted with AK Interactive flesh tones, and was my first time trying a wet palette. After the trouble I had with the paint texturing on Sgt Vratraski, I wanted to see if this would help. It did, and I was left with a much smoother finish here. Her features were a combination of paint and decals, which look better from some angles than others due to the somewhat flat casting. Finally, a coat of Dullcote and final dry brushing finished this figure.