Site Features
Getting Started in the Hobby
Model Categories
Astromech Droids
Labor/Service Droids
Medical Droids
Military Droids
Protocol Droids
Starship Droids
Other Droids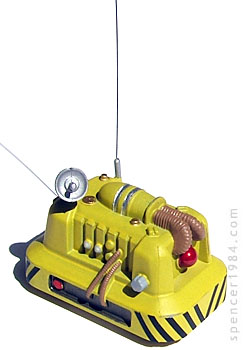 I had completely forgotten about this little guy until I was going through some boxes looking for parts. I had bought the Tatooine Accessory Playset way back when it first came out, and had gotten as far as disassembling the Scrubber Droid for repainting and detailing. Eight years later, I finally got around to finishing it. What makes this especially embarassing is that it was a pretty simple repaint: basically, just Krylon yellow and some hand-painted details. I wanted it to look like a droid that had been on the job for a while, and may have had the occasional run-in with other deck hands, so I avoided true black (aside from the hazard stripes) and used shades of brown and gray for all the detail work. I also added a few scuff marks, replaced the badly warped antenna with a piece of wire, and replaced the pull-back motor with a less "toyish" drive system.
Have a question, comment, or criticism about this model?
Send me an e-mail with your thoughts!