Original Kit:
Ligier JS2
Made By:
Blue Tank (kit #TK8811)
Scale:
1/28

Other Batmobile Models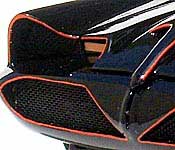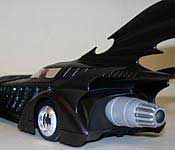 1992: Batman the Animated Series
1992: Batman:TAS (Review)
2005: Batman Begins/The Dark Knight
2015: Arkham Knight (Review)
2004: Teen Titans #9
1990: Legends of the Dark Knight #5
2017: Justice League (Review)
2005: Detective Comics #800
2008: Batman and the Outsiders
2017: The LEGO Batman Movie
Other Comic & Manga Models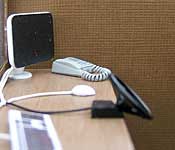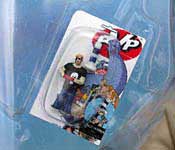 Cyber Formula Experion Z/A-8 (Review)
Beetle Bailey Jeep
Tekkonkinkreet Colt Galant
Detective Comics #597 Batmobile
Dilbert Carbicle
DC Bombshells Wonder Woman (Review)
Detective Comics #800 Batmobile
Cyber Formula SIN Ogre AN-21 (Review)
Deadpool Taco Truck (Review)
Wangan Midnight Devil Z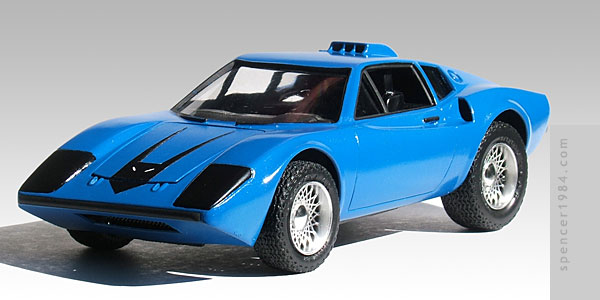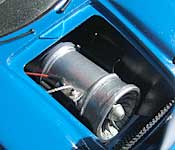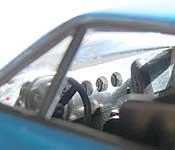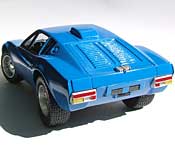 One of the recurring themes in Batman comics in the '70s was the "internal monologue while driving" scene. This made for a lot of single-panel Batmobile appearances, including this car used in Batman #288. Penciller Mike Grell used what looked like a Ligier JS2 for his Batmobile, so I used the closest available kit for my model: a 1/28 JS by Blue Tank.
I was less than impressed with Blue Tank the last time I used one of their kits. This time around was much better, likely owing to a combination of a better subject and more experience on my part. The full-bodied JS2 hid the crude suspension components and simplified interior, plus my modifications eliminated some of the kit's worst aspects.
The first thing I had to do was convert the JS2 from racing trim to modified street trim. This involved cutting off the front air dam, adding a new chin, filling in the front fender vents, opening the rear side windows, and closing the hood vent. For this last modification, I decided it would be easier to make an all-new new hood from sheet styrene rather than modifying the existing piece. I also thought it would be fun to make this a hinged panel so I could add some detail in this area. The hood itself was pretty simple, just a piece of sheet styrene with a pair of scratchbuilt hinges. I made a flange from sheet styrene and glued it to the inside of the body, creating a lip inside the opening. A latch standoff was added to the back of this flange to make sure the hood sat flush with the body when closed. No other body modifications were made: I felt the roof scoop and louvered rear window cover were appropriate for a Batmobile.
The interior was about as basic as possible: a bucket, a dashboard, and a steering wheel. The single seat was cast as part of the bucket, but fortunately this comic took place during the years when Batman was a solo act so I didn't need to add a second seat. The only things I did add were paint, BMF, a set of custom gauges, a phone, seat belts, and a fire extinguishing system.
Because this was originally supposed to be a motorized kit, there was a huge tunnel through the middle of the cockpit where the battery went. I didn't want to scratchbuild a whole new interior, so I decided to make this tunnel "legitimate" by adding a small turbine engine under the hood. This was made with raw styrene and various parts box items, including a finned wheel, part of an Independence Day Alien Attacker, and section of splatter screen for the intake mesh.
Once all of my modifications were done, the body was painted Tamiya Bright Blue and trimmed with flat and satin black. A custom Bat Mask, rear Bat emblem, and a set of aftermarket wheels finished the look. Although this is a 1/28 scale kit, the unusual subject matter and fantasy aspect of the car allow it to easily pass with the rest of my 1/24~1/25 collection.