Original Kit:
'71 Mustang Mach 1
Made By:
Testors (kit #460030)
Scale:
1/24

Other Mustang Models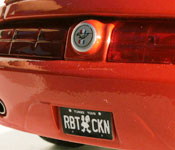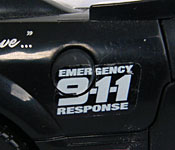 "Boss Hoss" Mustang (Review)
'06 Mustang 1 (Review)
'06 Mustang 2 (Review)
Need for Speed 2015 Mustang GT
GT Convertible Concept (Review)
Need for Speed 2014 Mustang (Review)
I Am Legend Shelby GT-500
Bullitt '68 Mustang
Gunsmith Cats Shelby GT500
'96 Boss Shindoa
Other 2010s Movie Models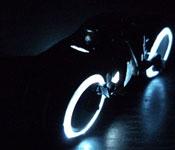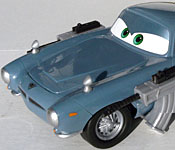 Cars 3 Lightning McQueen (Review)
F8 of the Furious Ripsaw
Men in Black III Ford Galaxie
Men in Black III Taurus SHO (Review)
Ford v Ferrari 330 P
F8 of the Furious Plymouth GTX
Planes 2 Firefighter Dusty (Review)
Tron Legacy Sam's Light Cycle
The Last Stand Camaro
Batman v Superman Batmobile
Deuce of Spades '32 Ford
Planes Dusty Crophopper (Review)
Deadpool Taxi
Cars 2 Finn McMissile (Review)
Fast 5 Nissan GT-R (R35)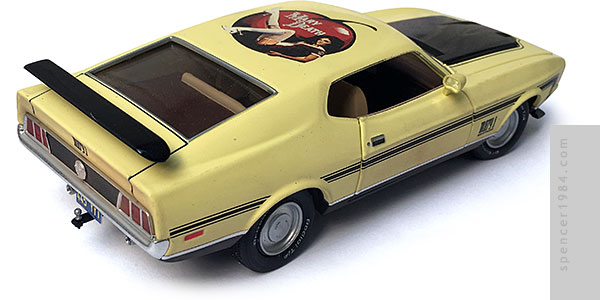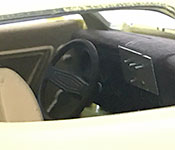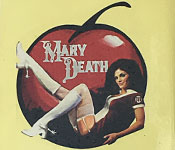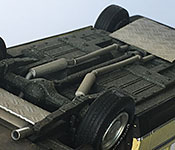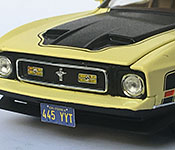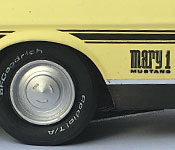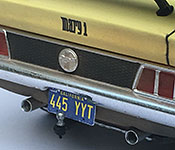 This project started with the same kit as the Diamonds are Forever Mustang, but about 15 years separated the two builds so it was kind of an interesting comparison of the changes to my work over that time period. Despite the very different-looking finished models, the two builds had a few details in common.
Both got wheel swaps from the Mustang's Sport Wheel covers to the simpler dog dish hubcaps. This time I used a set of wheels from Morgan Automotive Detail with tires from Fireball Modelworks, which mounted on the kit axles with a set of backers from my parts box. The interior also received a repaint and new steering wheel courtesy of my parts box, but then the two projects started diverging with the addition of the control panel over the center gauge cluster.
The chassis started box stock, but the more I looked at it the less I likes the way the engine and front suspension all fit together. It was too clunky, and would have required major reshaping to correct (and would have then left other parts of the kit in need of more work to look appropriate, etc., etc.). In an effort to save my sanity while still fitting the look and feel of Mary Death's ride, I opted to give the Mustang a couple of wasteland-appropriate skid plates made from Plastruct diamond plate. I also made it a trailer hitch and a set of custom exhaust tips.
The body was left its prepainted yellow. Odds are that the movie car was actually Grabber Yellow instead of Yellow, but as with Rally's car from Gunsmith Cats the media was stylized enough and the prepainted body was done well enough that I called it good. I did have to correct a couple missed paint apps on the window trim, but otherwise I just needed to make the screen-accurate modifications. First was the fender and trunk scripts, which I removed with acetone and replaced with a set of custom "Mary 1" graphics I drew up in Illustrator. I made the roof graphic by taking a screenshot from the movie and cleaning it up in Photoshop. With the new decals in place, the whole car was shot with Dullcote and weathered to match its screen appearance. All of the blackout panels were painted and installed, and chrome trim was added to the rockers using aluminum repair tape. The final detail was a set of screen-accurate license plates.