Site Features
Getting Started in the Hobby
Model Categories
Astromech Droids
Labor/Service Droids
Medical Droids
Military Droids
Protocol Droids
Starship Droids
Other Droids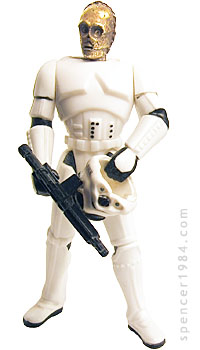 I decided to do this one mostly because I had a leftover C-3PO head from an attempt to make an M-3PO military protocol droid, and Stormtrooper Lukes were pretty cheap. Doing a simple head swap didn't look quite right, so I also cut and repositioned his arms and hands to look more like C-3PO's. I left the figure painted as it was originally, I just needed to touch up where I had cut and filled.
Have a question, comment, or criticism about this model?
Send me an e-mail with your thoughts!