Site Features
Getting Started in the Hobby
Model Categories
Astromech Droids
Labor/Service Droids
Medical Droids
Military Droids
Protocol Droids
Starship Droids
Other Droids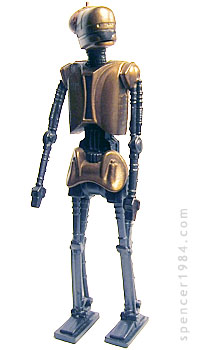 I did not do much to Eve. The hydraulic cylinders and abdominal sections were repainted, and I opened her mouth by carving out above the lower jaw. This was the first droid I tried washing with india ink, and it helped greatly. Between the ink and a layer of gloss coat, the droid looks darker and more metallic than it used to, but still retains all of the original articulation.
Have a question, comment, or criticism about this model?
Send me an e-mail with your thoughts!