Site Features
Getting Started in the Hobby
Model Categories
Astromech Droids
Labor/Service Droids
Medical Droids
Military Droids
Protocol Droids
Starship Droids
Other Droids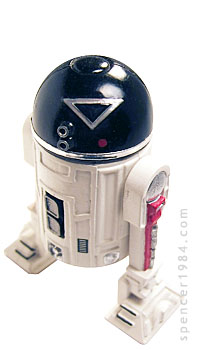 This was actually a more involved custom job than I originally thought it would be. According to SW:EGD, the face of an R7 looks completely different from the face of any other series Astromech. For example, the small arms just below the dome are gone, and the access panels have been reconfigured. Fortunately, I started with the Flashback Photo R2-D2, which has a hard plastic body, not vinyl.
I started by removing the third leg and head. I then removed most of the front panels by sanding the front cover back to smooth plastic. I cut a new front panel out of thin sheet styrene and glued it onto the droid. When it was dry, I sanded and filled the new fascia so that it blended in with the rest of the body. For the head, I used the dome from an Episode I R2, because none of the access panels are recessed, so there was minimal filling required. The new radar eye and head details were made from scrap plastic.
Have a question, comment, or criticism about this model?
Send me an e-mail with your thoughts!