Site Features
Getting Started in the Hobby
Model Categories
Astromech Droids
Labor/Service Droids
Medical Droids
Military Droids
Protocol Droids
Starship Droids
Other Droids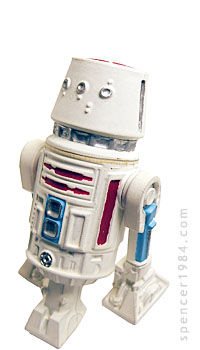 This seems to be one of the least-liked toys in the entire Star Wars lineup. It has no articulation, a relatively poor paint job, the body splits apart to fire a missle from the droid's head, and it has improbable laser cannons mounted on each leg. My customizing of this figure was not so much altering the droid as much as making it a little more realistic. I used it's original paint scheme as a basis for the final result.
I cut off the laser cannons, and the brace between the main legs. I then glued the body halves together, and filled in all of the seams where the panels hinged or split. I also removed the (?) from the top of his head (I could not figure out what this thing is supposed to be. It's either a very thick antennae, or a bit of the "bad motivator" mentioned in the movie).
Have a question, comment, or criticism about this model?
Send me an e-mail with your thoughts!