Site Features
Getting Started in the Hobby
Model Categories
Astromech Droids
Labor/Service Droids
Medical Droids
Military Droids
Protocol Droids
Starship Droids
Other Droids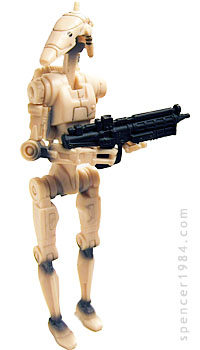 This droid has been modified from the original pose so it can hold it's battle rifle as it did in The Phantom Menace. I cut the right arm at the shoulder, and notched the inside of the wrist and fingers. I then cut the left arm below the elbow and the thumb. I repositioned the arms (using pins where I cut all the way through), and put the gun in the droid's hands as it appears here. When I was satisfied, I glued the arms at the breaks, but left the neck, hips, and knees flexible so that the droid can still be posed. Once dry, the figure was given a wash of india ink.
Have a question, comment, or criticism about this model?
Send me an e-mail with your thoughts!