Site Features
Getting Started in the Hobby
Model Categories
Original Kit:
2007 Ford Crown Victoria Police Interceptor
Made By:
Motor Max
Scale:
1/24

Other Police Models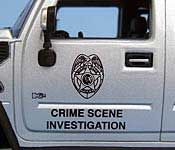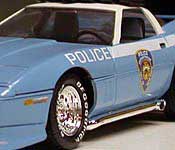 Stranger Things Chevy Blazer (Review)
iZombie Police Car
Sharky's Machine Dodge Diplomat
Short Time Dodge Diplomat
Troy PD SCCA Camaro
Mad Max V8 Interceptor (Review)
Transformers 280ZX
Men in Black III Taurus SHO (Review)
Highway Patrol Buick
CSI: Miami Hummer H2
Blues Brothers Bluesmobile (Review)
The Terminator Dodge Monaco (Review)
Piranha 3D Crown Victoria
Animal Precinct Crown Victoria
NYPD Corvette
Dukes of Hazzard 1977 Fury (Review)
Peacekeepers Ford Expedition
Blackhawk PD Concorde
Safe Crown Victoria
LAPD Monte Carlo SS Aerocoupe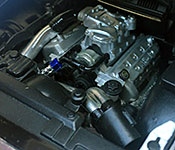 I had started this project a while back, after watching the entire You're Under Arrest anime but discovering I was too late to get any of the related Fujimi model kits. I still wanted something in my collection to represent the series, and figured a decent placeholder would be the Crown Vic featured in the ...No Mercy OVA. I got partway through the conversion when I started having some luck locating the Fujimi kits, so this was stuck on the back burner until I got one (or more) of those built. After a while that idea seemed a bit silly, so I brought it out of storage and wrapped up the few things that still needed to be done.
The base is, of course, the same MotorMax Crown Vice that has served me well in both official and civilian dress. I had wanted to do a bit more than usual to this one, though, since it was shown to be highly modified (a nod to both the original manga/anime and as part of the spoof on American cop movies).
To give it a little extra oomph, I cut out the engine and stripped most of the drivetrain, replacing them with parts from Revell's '99 Mustang Cobra. The V8 got a modified intake manifold with scratch built twin turbos, a new radiator, and new hoses. Shocks and a custom dual exhaust were scratch built. Wheels were taken from Lindberg's Crown Vic and wrapped in parts box tires. Inside, the center console was rebuilt to include the auxiliary gauges and stick shift from the movie, and a divider was added.
Since this car came from MotorMax as a blank black & white, it saved me the trouble of removing any markings. I was able to simply make up a set of screen-accurate markings and print them onto clear decal stock. I also modified the headlights to give them more proper buckets, and customized the light bar, spots, and grille to look more like what was shown.