Site Features
Getting Started in the Hobby
Model Categories
Original Kit:
1975 VW Beetle 1303S Cabriolet
Made By:
Aoshima (kit #39205)
Scale:
1/24

Other 2000s Movie Models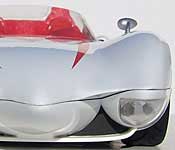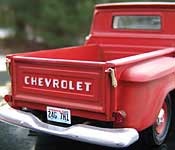 Star Wars E3 Starfighter
Speed Racer Mach 5 (Review)
Ghost Rider Stunt Bike (Review)
Dark Harvest 2: The Maize Durango
P2 Oldsmobile Cutlass Supreme
Fast & Furious '70 Charger
The Fast & the Furious '70 Charger
WALL·E
Tomb Raider 2: The Cradle of Life Jeep
Final Fantasy VII Fenrir (Review)
Other Volkswagen Models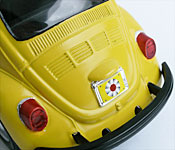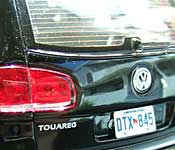 Little Miss Sunshine 1978 Bus (Review)
Jada Toys 1959 Beetle (Review)
The Cars that Ate Paris Beetle
'98 VW Beetle
Gremlins Beetle (Review)
Transformers G1 Bumblebee
Lost 1971 Bus (Review)
Gremlins Beetle
Alone in the Dark VW Touareg
Interstellar Pig Cabriolet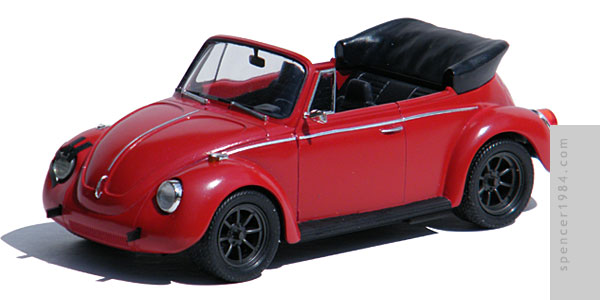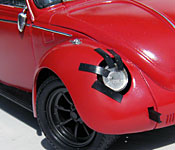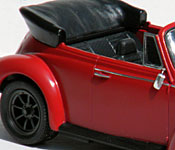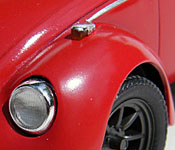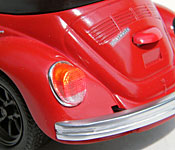 B-movie cars are starting to become a specialty here. These are generally very inexpensive or very simple projects, which feels about right. The models and their inspiration are quick, simple fun, while costlier/more involved projects are generally reserved for more serious subjects ("serious" being a relative term). Such was the case with Ninja Cheerleaders: a silly, campy movie that knew it was ridiculous right from the title. Aoshima's '75 Beetle kit was a near-perfect match for the one used throughout the film, all it needed was some detail work.
The first thing that needed to go were the wheels. The movie car wore Minilites, which I replicated with a set of Fujimi Watanabe wheels. Although these are a little deeper, I think they fit the look of the car very well once they were fitted with a set of parts box tires. The rest of the chassis and interior was pretty much box stock.
The movie car was missing its front bumper and sun visors, so I left those off. I also removed the side marker lights and second exhaust tip, reshaped the rear bumper and license plate light, shaved the side emblems and fender spats, and added the general distressing that defined the car. For this I removed the trim aft of the passengers' door, seated the right headlight in a bucket from my parts box using actual slices of black tape, bent the right sideview mirror, and scratchbuilt the housings for the tail light and front marker light. The intact marker light was carved from a section of amber sprue and covered with BMF. The body was painted Tamiya Italian Red and lightly weathered to give it a used appearance.