Site Features
Getting Started in the Hobby
Model Categories
Astromech Droids
Labor/Service Droids
Medical Droids
Military Droids
Protocol Droids
Starship Droids
Other Droids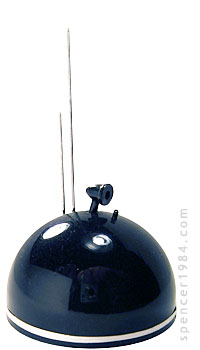 Like the R4 series, there are variants on how this droid looks depending on the specific model. The LIN-V8K is a wide, flat dome that rides higher, and has a blank, matte black shell. The V8M has a more rounded dome, rides lower, and has a glossy black dome with a metalized band at the bottom of the shell. My droid is based on the Imperial V8M model.
This was actually a pretty simple scratchbuild. The main dome is from a gumball machine, and the running gear is from a Micro Machines tank. Everything else is parts box material.
Have a question, comment, or criticism about this model?
Send me an e-mail with your thoughts!