Site Features
Getting Started in the Hobby
Model Categories
Astromech Droids
Labor/Service Droids
Medical Droids
Military Droids
Protocol Droids
Starship Droids
Other Droids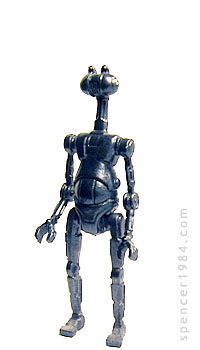 This is one of the stranger looking droids in the Star Wars universe. It looks vaguely like a potbellied mantis. I liked the unique design, but didn't care much for the paint job this figure recieved: it looked like it had a halfhearted paint job that was wiped off while it was still wet. I repainted it with Plasti-Kote's dark metallic grey, and then washed the droid with india ink/alcohol mixture. To add the finishing details, I used various paints and chalks to give the droid some light weathering. The droid retained it's full articulation after it was painted.
Have a question, comment, or criticism about this model?
Send me an e-mail with your thoughts!