Made By:
Square Enix Products
Scale:
N/A
MSRP:
US$29.99
Overview:
Packaging (Design):
10/10
Packaging (Durability):
4/10
Casting (Body):
10/10
Casting (Interior):
N/A
Casting (Chassis):
N/A
Casting (Engine):
10/10
Paint (Exterior):
10/10
Paint (Interior):
N/A
Paint (Trim/Graphics):
10/10
Overall Panel Fit:
10/10
Total Score:
9.1/10

Other Motorcycle Models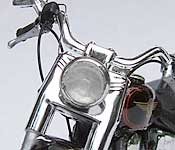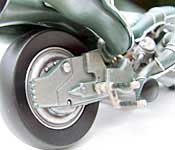 G.I. Joe RAM
Transformers: RID Sideways
Tron Legacy Sam's Light Cycle
Ghost Rider Stunt Bike (Review)
Tron Legacy Clu's Light Cycle
Indiana Jones and the Last Crusade Bike
Kamen Rider New Cyclone
The Walking Dead Chopper
Tron Light Cycles (Review)
Kamen Rider Hurricane
The LEGO Movie Cycle
Final Fantasy VII Motorcycle (Review)
The Great Escape Bike
Terminator 2 Harley-Davidson
MOSPEADA/Robotech VR-038
Tiger & Bunny Double Chaser (Review)
Kamen Rider W Accel Gunner

Grendizer Duke Buggy (Review)
The Mouse and the Motorcycle Bike
Final Fantasy VII Fenrir (Review)
Other 2000s Movie Models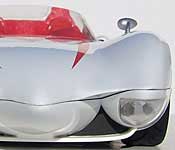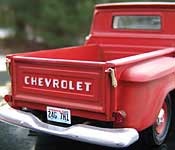 Dukes of Hazzard General Lee
I Am Legend Shelby GT-500
Driven Target CART Racer
xXx '67 Pontiac GTO
Talladega Nights Monte Carlo (Review)
Incredibles Incredibile (Review)
Night Watch Audi TT
The Transporter BMW 735i
Final Fantasy VII Fenrir (Review)
Collier & Co: Hot Pursuit Traveller
Minority Report Lexus
Cars Mack (Review)
Watchmen Owl Ship (Review)
Taarzan the Wonder Car Honda CRX
Dale Daytona Winner (Review)
Revenge of the Fallen Bumblebee
Austin Powers: Goldmember Shaguar
Charlie's Angels 1969 Camaro
War of the Worlds Monte Carlo SS
Gone in 60 Seconds Eleanor (Review)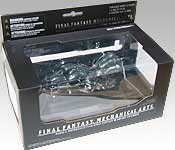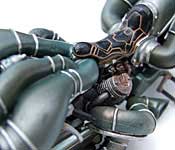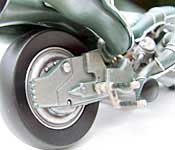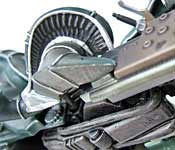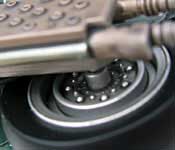 Packaging
The Mechanical Arts series are packaged in "blister boxes": most of the packaging is a standard six-sided window box, but an extra flap stretching up from the back panel has a hole to allow these to be hung from pegs like carded action figures. The box is folded in such a way that every visible panel is matte black. There are four windows: one on the top/front, one in each end flap, and a narrow "mail slot" across the back. None of the windows are rectangular, but instead have unique cutouts to follow the "mechanical arts" theme. The series name and product are printed in chrome on the hang flap and front panel. while all other text is a combination of white and light gray. This includes the warnings on the hang flap, company name on the top and bottom panels, copyright and product info on the front panel, and product info and warnings on each end flap. One end flap also has the warning in a red box for extra attention. The back panel has a moodlit product photo, cross-sells, and all the legal and distribution information. To open the box, two strips of tape have to be cut and the top panel folds forward. The motorcycle and base are held in a set of three plastic trays, built to keep everything separate and making the vehicle appera to be floating in the box. Overall a really stunning piece of design, but unforunately I have seen multiple boxes that suffered glue failure, allowing the end flaps to break free. These can easily be re-glued, but the loose flaps can easily get damaged or torn on store shelves.
Casting/Paint
The whole point of the Mechanical Arts series is to create visually stunning replicas, with particular attention to fit and finish. For the most part, they have succeeded admirably. The motorcycle has a rough, weathered look that appears to be almost organic. The curves, dents, and varied textures all work together, and the only parting seams I see are on the curved side pipes and tires. These are all very faint, however, and look like they may even be part of the aesthetic. The paint is a nice mixture of metals and satins, giving the look of a well-used machine. Detail work is handled very well, especially the fine silver lines on the exhausts and intakes. The seat is detailed with equally well done brown lines, and the engine and guns have been washed to appear discolored from heat.
Features/Accessories
The only real accessory here is the base, a generic rectangle shared among all of the Mechanical Arts vehicles. Because this is a ground vehicle, the hole in the center of the base (used as a stand mount for aerial vehicles) has a generic looking plug. The plug is not glued in and fits loosely, so be careful not to flip the base over and lose it. Some photos of Kadaj's motocycle show the kick stand as a moveable pice, but this was not the case on my model: it was glued solid, and broke off when I attenmpted to rotate it out to the side.
Accuracy
Comparing it to stills from Advent Children, this appears to be a perfect match. It is a very complex design, but Square Enix seems to have captured every bolt, contour, and vent screen perfectly. It was not listed as any particular scale, but the size of the seat, handlebars, and foot pegs makes this appear very close to 1/24 scale.
Overall
I was disappointed by the glue issues on the box and the broken kick stand, but both are minor (and easily repairable) nitpicks of what is otherwise a truly excellent replica. Square Enix has truly created a piece of art with this, and I recommend it to both Final Fantasy fans and 1/24 collectors in general. Very highly recommended.
Have a question, comment, or criticism about this review?
Send me an e-mail
with your thoughts!