Made By:
Motorsports Authentics
Scale:
1/24
MSRP:
$60
Overview:
Packaging (Design):
9/10
Packaging (Durability):
10/10
Casting (Body):
9/10
Casting (Interior):
8/10
Casting (Chassis):
9/10
Casting (Engine):
8/10
Paint (Exterior):
10/10
Paint (Interior):
8/10
Paint (Trim/Graphics):
10/10
Overall Panel Fit:
9/10
Total Score:
9.0/10

Other Racing Vehicle Models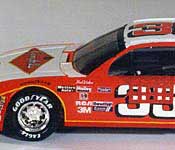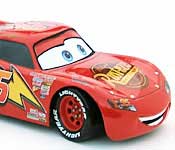 Red Line 7000 Ford Galaxie
'19 Monster/Napa #19 Camry (Review)
'05 Indy Pace Car (Review)
Cyber Formula SIN Ogre AN-21 (Review)
Cyber Formula Super Asurada (Review)
Cyber Formula Stealth Jaguar (Review)
Dark of the Moon Leadfoot
Transformers Mirage
Cars Lightning McQueen
Stroker Ace Chicken Pit Special
Transformers: Machine Wars Prowl
Cars 3 Cruz Ramirez
Ford GT (Review)
Born 2 Race Subaru Impreza WRX STi
'13 GoDaddy #10 Chevy SS (Review)
'57 Chevy Pro Street (Review)
Blonde Comet Open Wheel Racer
The Love Bug Herbie
The Circuit Wolf Lotus Europa
Transformers Jazz
Other 2000s Movie Models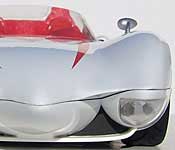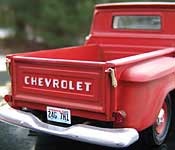 Avatar AT-99 Scorpion
Harry Potter Anglia 105E
Bruce Almighty Saleen S7
Star Wars E3 Starfighter
The Bourne Ultimatum NYPD Impala
Night Watch Audi TT
Gone in 60 Seconds Eleanor (Review)
Ninja Cheerleaders VW Beetle Cabriolet
Austin Powers: Goldmember Shaguar
Death Racers Lotus Elise
Transmorphers: Fall of Man Police Car
Alone in the Dark VW Touareg
Driven Target CART Racer
Revenge of the Fallen Bumblebee
Fast & Furious Chevelle (Review)
I Am Legend Shelby GT-500
The Matrix Reloaded Escalade EXT
Watchmen Owl Ship (Review)
Charlie's Angels 1969 Camaro
Cars Mack (Review)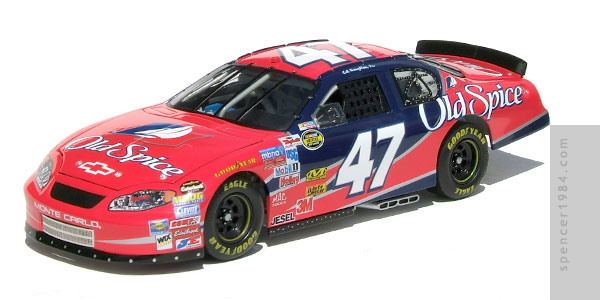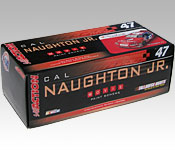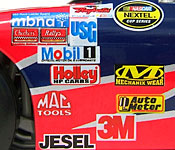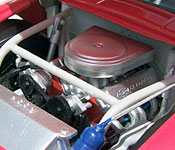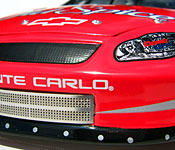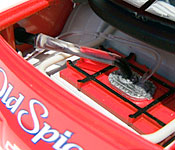 NOTE: This is a repaint of an existing model, and this review will focus on the changes made between the cars. You can see the original review for more details.
Background
Talladega Nights: The Ballad of Ricky Bobby was the second film in Will Ferrell's Mediocre American Man Trilogy (after Anchorman: The Legend of Ron Burgundy). Ricky Bobby's best friend and wingman on the track was Cal Naughton Jr., who drove this Old Spice-sponsored #47 Monte Carlo.
Packaging
Action Collectibles uses shoebox packaging with a lift-off shell and a two part foam tray. The box is very dramatic, with the Action logo, "Cal Naughton Jr.," "Movie Paint Scheme," car number, and movie title on the front, back, and top panels. The front and back panels also include the "Officially Licensed NASCAR" logo and Action Collectibles tagline. The box top has a retouched photo of the model, "Cal Naughton Jr." signature, and "1:24-Scale Stock Car Limited Edition Adult Collectible." The graphics are color-keyed to match the car inside, which is a very nice touch. One end panel has the two-digit year the replica was issued (06), Action "A" logo and website, barcode, and a silver sticker that includes the driver name, car number, sponsor, car type, edition size (1500), and part number. The other end panel is much simpler, with only the Action and Action "A" logos and copyright information. The bottom of the box has a standard boilerplate that covers all of the cars offered by Motorsports Authentics/Action.
Casting/Paint
As with the Wonder Bread racer, the Old Spice car used the contemporary Monte Carlo. The only difference between the cars is the exterior paint job. The Old Spice sponsorship is a much simpler design, with a pair of dark blue "swooshs" against a red body. The fit & finish are still top-notch, and the paint ends up on par with the Wonder bread car: it lacks the paint slop on the #26's engine, but it has a couple of minor rough spots on the rocker skirts and roof rails. They're difficult to see without closely examining the car, though, so it's nothing that really detracts from the overall appeal.
Features/Accessories
The hood, trunk, and roof flaps all open. The hood hinges are stiff enough to hold any angle, while the trunk hinges have a tab to hold the open position once you raise the lid far enough. The roof flaps are on loose hinges, but open far enough that they will stay open. The front suspension is sprung, with well-hidden hinges that do not detract from the look of the chassis. Finally, the front wheels are posable and tied to the steering wheel via a thin metal rod.
Accuracy
All the details appear to be correct, right down to the roof flaps (which use a two-tab hinge design like the 1:1 car). Scaling is a good 1/24.
Overall
Because it uses the newer Monte Carlo, Cal's Old Spice car is as good as (and without the engine paint error, arguably better than) Ricky Bobby's Wonder Bread car. It's lower production run may also make it somewhat more attractive to collectors. But your mileage may vary: 1500 isn't a terribly short run, and Cal's status as a second-tier character makes it less critical unless you're looking to get the full set of Talladega Nights cars or are a big John C. Reilly fan. As I wanted to get the full "Shake & Bake," it was an easy choice for me. Recommended.
Have a question, comment, or criticism about this review?
Send me an e-mail
with your thoughts!