Made By:
Mattel
Scale:
N/A
MSRP:
US$11.99
Overview:
Packaging (Design):
8/10
Packaging (Durability):
8/10
Casting (Body):
7/10
Casting (Interior):
N/A
Casting (Chassis):
5/10
Casting (Engine):
5/10
Paint (Exterior):
8/10
Paint (Interior):
N/A
Paint (Trim/Graphics):
8/10
Overall Panel Fit:
8/10
Total Score:
7.1/10

Other 2010s Movie Models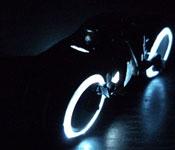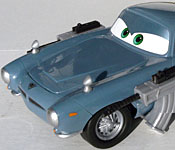 Hobbs & Shaw Peterbilt (Review)
Star Wars Rey's Speeder (Review)
Furious 7 Nissan GT-R (Review)
Batman v Superman Batmobile
Incredibles 2 Incredibile (Review)
Fast 5 Nissan GT-R (R35)
Furious 6 '69 Mustang (Review)
Safe Crown Victoria
Men in Black III Ford Galaxie
Need for Speed 2015 Mustang GT
Drive '73 Chevelle
Tron Legacy Sam's Light Cycle
Need for Speed 2014 Mustang (Review)
Dark of the Moon Roadbuster
Transformers 5 Hot Rod (Review)
Furious 7 '70 Road Runner (Review)
F8 of the Furious Plymouth GTX
Furious 7 '70 Charger (Review)
Jurassic World Mercedes-Benz G550
Furious 7 Lykan HyperSport (Review)
Other Paranormal Models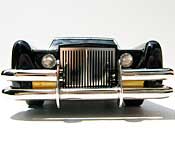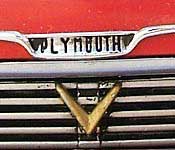 The Car
Ghostbusters Ecto-1 (Review)
Stranger Things Chevy Van
Nightmare on Elm St Cadillac (Review)
Ghostbusters: The Video Game Ecto-1B
Stranger Things Chevy Blazer (Review)
The Real Ghostbusters Ecto-1
Haunted Mansion Hearse (Review)
Nightmare on Elm St Cadillac
Supernatural Impala (Review)
Christine (Review)
Night Watch Audi TT
Kaiki Daisakusen Tortoise (Review)
Misery Machine
Harry Potter Anglia 105E
Ghostbusters Ecto-1
Speed Demon Chevelle
Supernatural Chevelle
Wheels of Terror Charger
Supernatural Impala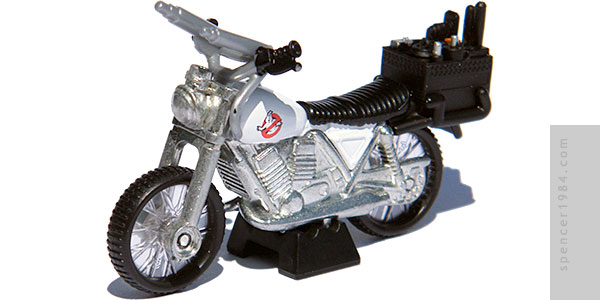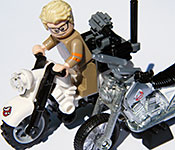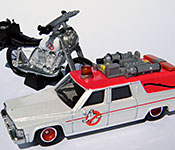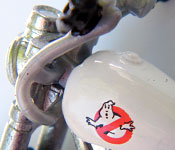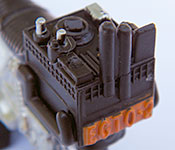 NOTE: Since this site is generally 1/24 scale vehicle-oriented, this review is considering the Ecto-2 to be the primary vehicle.
Background
After the Ghostbusters see some initial successes, their dimwitted-but-decent receptionist Kevin wants in on the action. As a show of his commitment to the idea, he makes his own personalized jumpsuit and outfits a dirt bike with the appropriate gadgets and markings, including an "Ecto 2" vanity plate.
Packaging
Like other Hot Wheels sets, this is a wide blister card, measuring 8" (20.5cm) x 6½" (16.5cm) with the top right corner cut out as a design element leading to the hanger cutout. The background has multiple layers of ectoplasm oozing down over a plain dark brown field. The Hot Wheels logo is in the top left corner, the age restriction is in the top right corner, and the movie logo and title are centered just above the blister. The blister itself is 7" (18cm) x 2½" 6.5cm) x 1¾" (4cm), with a single folded piece of cardboard between it and the inner tray. The cardboard has the vehicle names styled like name badges over a high vis stripe. all of which is in front of a yellow and black caution stripe. The back of the package has heavily retouched photos of the two vehicles and all of the legal info, but is otherwise just a reshuffling of the front of the card. The tray holds the vehicles in specially formed pockets, with the Ecto-1 on the left and the Ecto-2 on the right. Since thisi s a blister card, the only way to get the vehicles out is to destroy the package.
Casting/Paint
Despite the fancy packaging, this is very much a Hot Wheels "mainline" casting. The front forks, from triple tree to wheel hubs, is all one piece of metal. The frame, engine, exhaust, and rear suspension is a second piece. The gas tank and battery cover is a third. The rear rack, seat, and handlebars are three pieces of plastic, and the wheels and tires are one piece of clear plastic each, bringing the total parts count to eight. They're all reasonably well done, but with that little to work with shortcuts are inevitable. The engine really suffers here, being little more than shallow reliefs on the sides of the silver monolith that is the chassis. Paint is similarly limited: the tank/battery cover is white, the tires and hand grips are painted black, some bits in the carrier are silver, and one other bit and the license plate are orange. There are quite a few small errors, including missed edges, ghosting, and random splotches. On the plus side, the Ghostbusters logos printed on either side of the gas tank are nice & sharp, with no print issues whatsoever.
Features/Accessories
Since I got this set for the bike, I consider the Ecto-1 an accessory. It's nicely done, finished in pearl white and semigloss red with all of the correct markings. It sits on a set of Real Rider tires on red and chrome wheels, and is topped with a reasonably accurate roof rack. Most people will be getting the set for this, and will not be disappointed. There is also a black stand included for the bike, since it lacks a kick stand or other means to hold itself up.
Accuracy
I haven't been able to find out whether this was an existing motorcycle that Mattel retooled, or if it is an all-new casting. I hope it's a retool, because that would excuse some of the mistakes they made. The biggest of which is the engine, which in an AMF-Harley-Davidson SX 175 Aermacchi should be a single cylinder...this is cast with a V twin. The exhaust is also entirely wrong, both wrong in number and lacking the distinct upwards sweep seen on the 1:1. The other problem is the wheels, which like other bikes are the same size as each other and too small. Adjusting for these, its scale is somewhere around 1/28 - 1/30.
Overall
While the motorcycle is not an objectively excellent piece, it's not bad and would be a fun addition to any TV/movie car collection. Most people will be more interested in the Cadillac anyway, which is a perfect compliment to the previously released -1 and -1A.
Have a question, comment, or criticism about this review?
Send me an e-mail
with your thoughts!