Made By:
Greenlight Collectibles
Scale:
1/24
MSRP:
US$24.99
Overview:
Packaging (Design):
8/10
Packaging (Durability):
9/10
Casting (Body):
9/10
Casting (Interior):
9/10
Casting (Chassis):
8/10
Casting (Engine):
8/10
Paint (Exterior):
9/10
Paint (Interior):
9/10
Paint (Trim/Graphics):
9/10
Overall Panel Fit:
7/10
Total Score:
8.5/10

Other 2010s Movie Models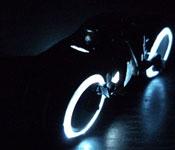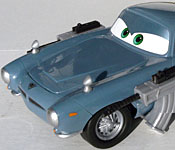 Furious 7 '70 Road Runner (Review)
Piranha 3D Crown Victoria
Furious 7 Off-Road '70 Charger
Fast 5 '11 Charger Rio Police
Need for Speed Mustang GT (Review)
Tron Legacy Clu's Light Cycle
Men in Black III Ford Galaxie
Fast 5 Nissan GT-R (R35)
Need for Speed 2015 Mustang GT
Jack Reacher '70 Chevelle
Transformers 5 Hot Rod (Review)
Furious 7 '72 'Cuda
Planes 2 Firefighter Dusty (Review)
Transformers 4 Optimus Prime
Furious 7 Off-Road '67 Camaro (Review)
Zootopia Police Cruiser (Review)
Jurassic World Mercedes-Benz G550
Furious 7 Lykan HyperSport (Review)
Edge of Tomorrow Sgt Vratraski
Drive '73 Chevelle
Other Police Models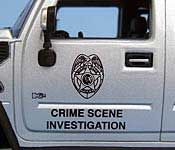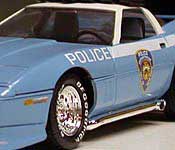 Blue S.W.A.T. Striker EX (Review)
Peacekeepers Ford Expedition
Blackhawk PD Concorde
Transformers: RiD Diablo
Dukes of Hazzard 1977 Fury (Review)
Animal Precinct Crown Victoria
Mad Max V8 Interceptor (Review)
Blues Brothers Bluesmobile (Review)
Safe Crown Victoria
The Bourne Ultimatum NYPD Impala
Resident Evil Raccoon City Police Car
Short Time Dodge Diplomat
Transmorphers: Fall of Man Crown Vic
LAPD Monte Carlo SS Aerocoupe
Transformers Saleen S281
NYPD Corvette
Stranger Things Chevy Blazer (Review)
Transformers 280ZX
The Terminator Dodge Monaco (Review)
Sharky's Machine Dodge Diplomat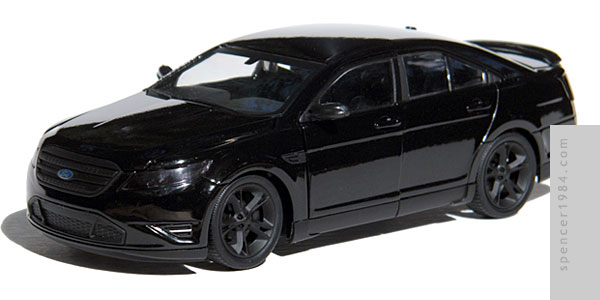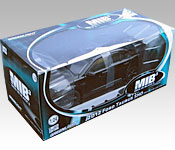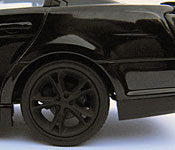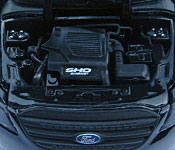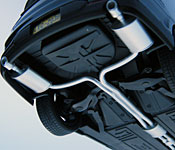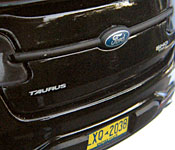 Background
Although driving a black sedan seems to be a requirement for the Men in Black, Will Smith's Agent J showed us in Men in Black II that the agency allows some variation in the exact make and model used. Tommy Lee Jones' Agent K is apparently a Ford man, though: we saw his transforming 1986 Crown Vic in the original Men in Black, and found out in Men in Black III that his history with the blue oval extends back more than four decades when he was driving a 1964 Galaxie 500. MIB3 also provided a brief glimpse of his newest ride, a 2010 Taurus SHO.
Packaging
Greenlight's Hollywood-licensed vehicles each come in a box with unique printing and a slightly different cutout for the window. For the Taurus, the box is primarily black and blue with variations of the MIB ellipses (including the shape of the window itself). The Greenlight logo, scale, "Adult Collectible," and "Limited Edition" are printed on every surface, and the movie logo is printed on every surface except the bottom. The back panel has an image of the car, along with a short paragraph describing the plot of MIB3. The interior tray repeats the exterior design, and the car is held in place with a folded plastic tray and a plastic band holding the doors closed.
Casting/Paint
The casting is up to Greenlight's high standards, with a clean casting and several very clever bits to improve it even further. Although panel fit is generally very good, the score here was dragged down by a poor job assembling the steering - I had to disassemble the front suspension to reseat the linkage. But the paint looks very good, and the blackout effects are done beautifully. These include separate plastic parts for the ground effects, fender vents, wheels, grilles, trunk trim, and tinted headlight and taillight covers. The lights are especially well done, as they are actually tinted clear plastic rather than opaque or painted pieces. The only color anywhere on the body are the Ford badges, silver Taurus/SHO trim, chrome mirror glass, and New York LXQ-2038 rear license plate. The engine has enough layers to look like a fully detailed unit when the hood is raised, with painted SHO script and suspension mounts to help add to the detail. The chassis has separate suspension and exhaust components, giving it a nice appearance. The brakes are also done using the same setup Greenlight first used on their Pace Cars, where the calipers are stationary but the rotors spin with the wheels. It was a great effect then, and it still looks good today. The interior continues Greenlight's trend of using softer plastic for the seats, which match the flat black interior perfectly. The gauges, center screen, and door handles are all painted, and the rearview mirror has a chrome sticker to replicate the glass. Several of the components have been painted with a matte finish for better realism, which works well but does come with a warning: in attempting to clean off some residue on the inside of the windshield, I accidentally got a drop of rubbing alcohol on the dashboard. This ruined the finish, and I ended up having to paint the dash pad to return it to its original appearance.
Features/Accessories
The doors & hood open, and the front wheels can be posed. While the trunk lid is a separate piece, it does not open, and any attempt to force it will damage you or the car.
Accuracy
The overall casting looks very good, and almost all of the details are screen accurate - including the license plate being on the "Empire Gold" base. Overall, the proportions look very good and it measures out to a near-perfect 1/24 scale. The only incorrect detail I see is that this lacks the sunroof that was on the movie car.
Overall
This is easily the strongest of Greenlight's first series of 1/24 scale TV/movie cars. It isn't quite as outstanding as their earlier work (flaws like the botched steering assembly never would have left their factory eight years ago), but the level of detail and features feel more like those cars. Recommended.
Have a question, comment, or criticism about this review?
Send me an e-mail
with your thoughts!