Made By:
Motorsports Authentics
Scale:
1/24
MSRP:
US$34.99
Overview:
Packaging (Design):
10/10
Packaging (Durability):
10/10
Casting (Body):
8/10
Casting (Interior):
7/10
Casting (Chassis):
6/10
Casting (Engine):
N/A
Paint (Exterior):
9/10
Paint (Interior):
N/A
Paint (Trim/Graphics):
9/10
Overall Panel Fit:
8/10
Total Score:
8.4/10

Other Racing Vehicle Models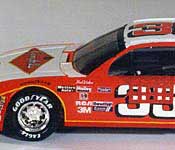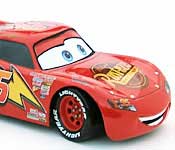 The Circuit Wolf Jota
Cyber Formula Knight Savior (Review)
Blonde Comet Open Wheel Racer
'57 Chevy Pro Street (Review)
Speed Racer F1 Mach 5
'15 Rev Racing #4 Camry
Talladega Nights Monte Carlo (Review)
Transformers Wheeljack
Cyber Formula Asurada GSX (Review)
'04 Justice League Parade Car (Review)
'13 GoDaddy #10 Chevy SS (Review)
Campbell's Soup #35 Monte Carlo
'19 Monster/Napa #19 Camry (Review)
Cyber Formula SIN Asurada (Review)
Cyber Formula Stealth Jaguar (Review)
Ford GT (Review)
The Circuit Wolf BMW 3.0 CSL
Cars 3 Cruz Ramirez
Cyber Formula Super Asurada (Review)
Transformers Jazz
Other 2000s Movie Models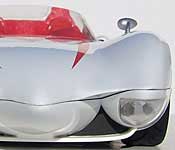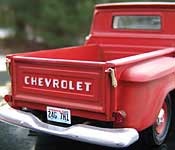 Death Racers Lotus Elise
Gone in 60 Seconds Eleanor (Review)
Revenge of the Fallen Bumblebee
Speed Racer Mach 5 (Review)
Bruce Almighty Saleen S7
Harry Potter Anglia 105E
Transmorphers: Fall of Man Police Car
I Am Legend Shelby GT-500
xXx '67 Pontiac GTO
WALL·E
Star Wars E3 Starfighter
Starsky & Hutch Ford Torino
Terminator 3 Lexus
Megafault Dodge Ram
The Fast & the Furious '70 Charger
War of the Worlds Monte Carlo SS
Twilight '63 Chevy Pickup
2012 Lincoln Town Car
Dukes of Hazzard General Lee
Resident Evil Raccoon City Police Car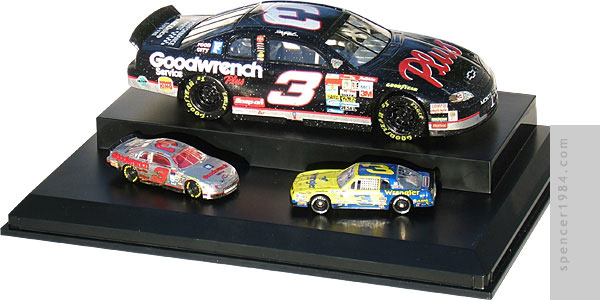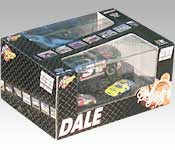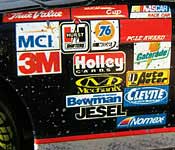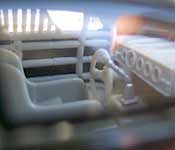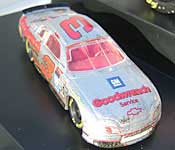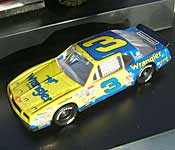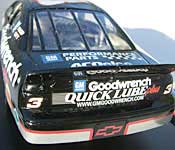 Packaging
To coincide with the release of Dale, Motorsports Authentics (under the "Winner's Circle" brand) released several diecast cars based on vehicles shown in the movie. One of those releases was this set of three cars, two 1/64 cars and one 1/24 car. They are packaged in a large box with windows providing views of the front, top, and rear of the cars. The front and rear panels are identical, with the Winner's Circle logo, movie title, Earthardt's signature, NASCAR logo, and basic product information. The WC logo, DEI logo, RCR logo, holographic NASCAR logo, and assortment number are on the box top. The box top also has a strip of 6½ photos from Earnhardt's later career (most of them featuring the 1/1 version of the 1/24 car) set in a film strip. The film strip motif is repeated on each end flap, where more photos from Earnhardt's racing career appear. The WC and NASCAR logos and the basic product information also appear on each end flap. The bottom of the box has all of the legal information. Inside, the cars are mounted in a hard plastic display case with a tiered deck: the 1/24 car is on a slightly higher surface than the 1/64 cars. A black and gold MA logo is centered on the top of the display case.
Casting/Paint
This is a "basic" casting, without the opening hoods or working suspension components you may see on more expensive NASCAR collectibles. The overall casting is competent, though is an older tooling of the Monte Carlo and so may seem inferior by modern standards. All of the windows are clear, and the tires are soft vinyl. The interior and chassis are both very simple single-color affairs, but look decent enough with the car on its base. Fortunately, any concerns about the soft panel lines or simplified castings are mostly remedied by the outstanding paint work. The base black is smooth and clean, but not so glossy as to look fake or toy-like. The sponsor decals are truly outstanding, with absolutely no placement, registration, or blurring issues at all. The logos are so crisp that you can still read some of the nigh-microscopic text on the contingency sponsors, like the "Official Fuel" text on the 76 logo on the front corners. The window trim is just as clean, with black frames and braces picked out nicely. All of this, including the tires, is then oversprayed to make it look like a post-race car. The individual spots are a little big, but the overall effect looks pretty decent.
Features/Accessories
As stated, the 1/24 car comes with two 1/64 cars: his 1995 "silver anniversary" car, and his 1987 Monte Carlo Aerocoupe. Both cars also sport the same "post race" weathering as their 1/24 companion. They obviously lack the detail of the bigger replica, but create a nice trio.
Accuracy
Although it's not expressly stated anywhere, this appears to be based on Earnhardt's 1998 Daytona 500-winning car, and so I am judging it based on that. Overall the car is a very faithful representation of the historic racer, and most fans will be very happy with the attention to detail. There are a couple of nitpicks, however. First, the "Plus" on the side panels is too small and too high on the car. Second, the "Bud" logo is missing from the front fender. Fortunately, these two small missteps appear to be the only real problems with the accuracy of the car.
Overall
Diecast cars had come a long way between 1998 and 2007, and seeing this older tooling under a modern paint job really proves the point. Fortunately, the steps that MA took to make the most of it really paid off, and the result is a better than expected replica. A few more paint applications inside the car would've been nice, but when you take in to consideration the special display case and two 1/64 companion cars, this is still a very worthwhile set. Recommended.
Have a question, comment, or criticism about this review?
Send me an e-mail
with your thoughts!