Made By:
Maisto (For direct sale through Lexus)
Scale:
1/24
MSRP:
$25.00
Overview:
Packaging (Design):
9/10
Packaging (Durability):
9/10
Casting (Body):
8/10
Casting (Interior):
8/10
Casting (Chassis):
6/10
Casting (Engine):
N/A
Paint (Exterior):
8/10
Paint (Interior):
9/10
Paint (Trim/Graphics):
7/10
Overall Panel Fit:
8/10
Total Score:
8/10

Other 2000s Movie Models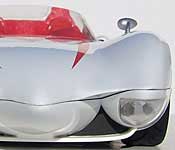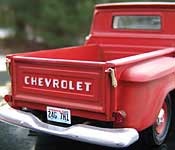 The Bourne Ultimatum NYPD Impala
Bruce Almighty Saleen S7
Avatar AT-99 Scorpion
Star Wars E3 Starfighter
Death Racers Lotus Elise
Harry Potter Anglia 105E
Fast & Furious '70 Charger
Talladega Nights Monte Carlo (Review)
Little Miss Sunshine VW Type 2 (Review)
The Bourne Identity Mini
Transmorphers: Fall of Man Police Car
Speed Demon Chevelle
Ninja Cheerleaders VW Beetle Cabriolet
Tomb Raider 2: The Cradle of Life Jeep
Final Fantasy VII Fenrir (Review)
Fast & Furious Chevelle (Review)
Revenge of the Fallen Bumblebee
Gone in 60 Seconds Eleanor (Review)
Death Proof 1969 Charger (Review)
Dukes of Hazzard General Lee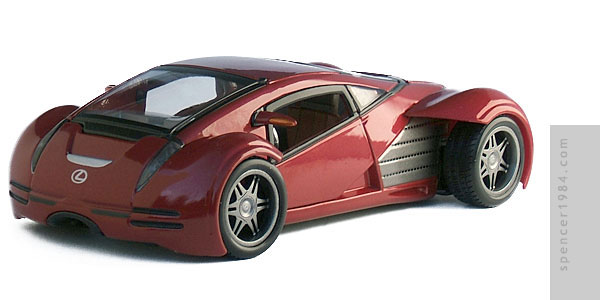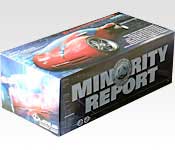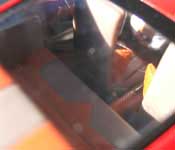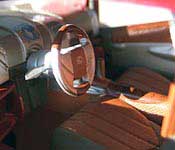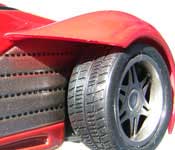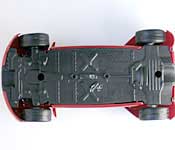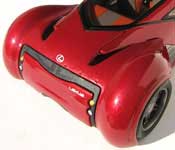 Packaging
This diecast was originally a tie-in promotional piece for the Tom Cruise/Steven Spielberg movie Minority Report, though it was re-released by Maisto both as a stand-alone diecast (labeled as a "Lexus Futuristic Concept"), and as part of their Show Haulers series (on a trailer being towed by a Chevy SSR). This first release was packaged in a solid-walled box. The box top has a large 3/4 view of the car, "Lexus (logo) Minority Report Sports Car," and the car's specs: "Model Year 2054 Features/Titanium Composite Chassis/Smart Recharging Electric Engine/500-kW Midship-Mounted Engine/Global Digital Entertainment System/Infrared Accident Avoidance System/DNA Recognition Entry and Ignition System." The long sides of the box each feature the movie logo title, and the short ends have a blurred closeup of the car's nose with the text "Lexus (logo) As Featured in the Movie Minority Report." The bottom of the box has the appropriate legal-ese and bar code. The car itself is held to a cardboard tray with two screws, and is enclosed within a half-cylinder shaped clear dome. The dome has stickers on its long sides with the Lexus and movie logos, set on a metallic silver background that matches the tray.
Casting/Paint
The casting is very clean, combining plastic and metal body panels to suit each material's strong points. The panel lines are all nice & clean, with sharply defined edges and an overall tight fit. The plastic body panels are cast in red, but appear to have been painted to match the diecast pieces well. Most detail colors are painted very cleanly, but there is a little bit of bleed around the front scoop and upper rear vents. Everything else looks nice & clean, especially the logos and side panels. The colors all seem to match the movie well, though if anything the replica's paint looks a little deeper than the film car. The interior looks great as well, with all of the appropriate paint applications done nicely with no slop or bleed. The front, rear, and quarter windows are cast in a clean, clear plastic, as are the headlights.
Features/Accessories
Very little - the doors open and the front wheels can be posed, but they're not tied to the steering wheel.
Accuracy
Excellent work here. Not only is it immediately recognizable, but Maisto really did their homework to make this look good. Some areas really stand out, like the perfectly cast & painted wheels and the subtle-but-still-present directional lights painted onto the sideview mirrors. Maisto also did a great job detailing the various grilles and lights. The lack of glass in the side windows doesn't seem quite right, but it doesn't detract from the overall replica.
Overall
There are a few minor areas that reflect the car's relatively low price point: the chassis has minimal detailing, and the logos are silver rather than true chrome, but overall this is a great little replica of a cool & unique movie car for a very reasonable price. It's great that Maisto has reissued the car, to allow anyone who wants one the chance to pick it up. Recommended.
Have a question, comment, or criticism about this review?
Send me an e-mail
with your thoughts!