Made By:
Chevron
Scale:
N/A
MSRP:
US$5.99
Overview:
Packaging (Design):
8/10
Packaging (Durability):
9/10
Casting (Body):
8/10
Casting (Interior):
8/10
Casting (Chassis):
N/A
Casting (Engine):
N/A
Paint (Exterior):
N/A
Paint (Interior):
N/A
Paint (Trim/Graphics):
8/10
Overall Panel Fit:
9/10
Total Score:
8.3/10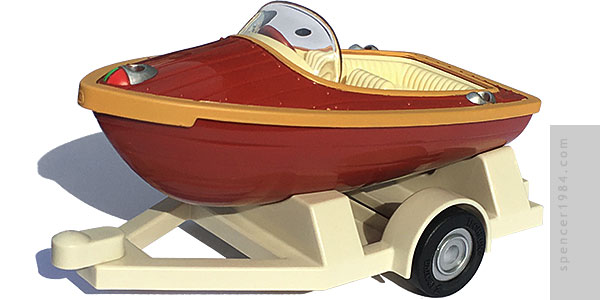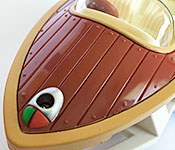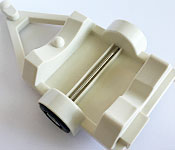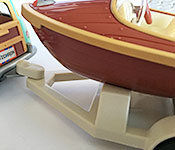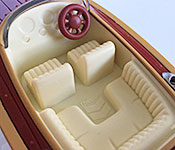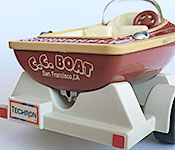 Background
After the previous releases of Pete Pick-Up and Horace 'N Trailer, Chevron revisited the idea in May 1999 with Woody Wagon and C.C. Boat 'N Trailer. As with the previous pair, the toys were meant to be used together and their packaging could even be arranged to create a wider scene (both front and back this time). C.C. uses the same hitch as Horace, so the trailer can be hooked up behind Woody, Pete, or Freddy.
Packaging
C.C. Boat 'N Trailer is sitting on a base approximately 7½" (190mm) x 4½" (115mm), with a printed sand surface complete with tire and foot prints. This base is approximately ¾" (18mm) thick with a brown edge. The Chevron logo/name and "Keep your Neighborhood Clean ♻" are printed on both ends, while "C.C. Boat 'N Trailer" and the Chevron Cars logo are on the front edge. Behind this is a printed panel with an image of a boardwalk and snack shop. "Safety tested and recommended for children age 3 and over" is printed on a wooden sign in the sand in front of the boardwalk. The back panel has essentially turned the viewer 180°, with C.C. and trailer on the beach with a lighthouse and cruise ship in the background. A sign stuck in the sand lists this toy's features. The bottom of the package has a photo of the set with callouts for the hitch, locator peg, and a note that the boat really floats, along with the typical marketing paragraph: "C.C. Boat 'N Trailer is a boatload of fun - especially when you hitch it up to Woody Wagon, Pete Pick-Up or Freddy 4-Wheeler. So put on the sunscreen and grab your flippers. With C.C. Boat 'N Trailer, every day is like a day at the beach!" The customer feedback card, "Owner's Manual," order form, and sticker sheet are packed inside the blister under Woody.
Casting/Paint
The trailer is a simple beige ABS frame cast as one piece with a separate tongue, metal axle, and smooth vinyl tires over silver painted wheels. The only paint is the red taillights, and a "Techron" sticker serves as the license plate. The character name and series logo plate is underneath, centered between the wheels. There's not a lot to it, so there's essentially nothing to get wrong.
The boat is a bit more complex, but not by much. The hull is two pieces of brown ABS, split just below the gunwale trim so that the bottom is solid and the boat floats. The cockpit is a much lighter brown, similar to the trailer but a warmer hue to better macth the hul. Inside are two forward seats, a U-shaped rear seat, and a separate brown steering wheel. Details are sparse but sufficient, with ribbed seats, gauges, and a Chevron logo cast into the floor. The wraparound windshield is cast in clear plastic. Paint includes the silver cleats and propeller, light brown trim, and green and red sidelights. "C.C. Boat/San Francisco, CA" is printed across the transom in a color somewhere between the trim and cockpit colors.
Features/Accessories
Unlike Horace 'N Trailer, it's hard to call the boat or the trailer an accessory here - there's not really any angle where just one works without the other. Unless, that is, you put the boat in water, where it will actually float.
Accuracy
This set was never featured in an ad, but it works well with the overall look of the cars. The combined boat and trailer measures approximately 6" (150mm) long, 3½" (90mm) wide, and 3" (75mm) tall.
Overall
As with Horace, C.C. Boat 'N Trailer is a fun accessory but nothing more. It does look good with Woody, but unless you're a boat collector or going for the complete set of Chevron Cars it's an easy one to miss.
Have a question, comment, or criticism about this review?
Send me an e-mail
with your thoughts!