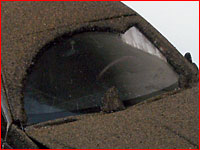 Tip for November 2013:
Windshield Wiper Paths
A frequent trouble spot with weathering cars is getting the correct wiper sweeps. The easiest way to set up where to paint is to take a compass with a sharp pencil, put the point on the base of the wiper arm, put the pencil at one end of a blade, and draw an arc on the glass. Repeat that for both ends of each blade, and in a matter of minutes you'll have perfect guide lines for adding your weathering.