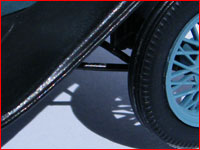 Tip for September 2013:
Minimalist Detailing
Just because you're working with a relatively crude kit, you don't have to give up on detailing altogether. Sometimes the addition of a simple strut or brace can make a world of difference. On the Ford pictured above, adding wire to approximate the front wishbone and tie rod improved the overall look of the vehicle even though it may not exactly match the 1:1.