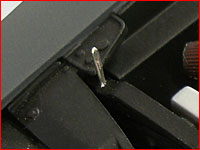 Tip for October 2012:
Cheap & Easy Hood Pins
Sewing needles make excellent hood pins for classic muscle cars. Simply mark the hood where the radiator bulkhead lines up underneath it, place it on the body, and drill through the hood into the crossmember. Then cut the needles to the appropriate lengths and glue them into place.