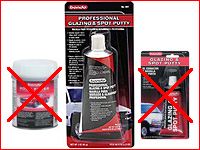 Tip for October 2008:
The Right Bondo for the Job
Once you get into customizing, you may hear other modelers talk about using Bondo for their body modifications. But Bondo makes enough products that picking the right one can be confusing. If you're just starting out and want to give it a try, go with their two-part Professional Glazing & Spot Putty (Part #801). Their regular body filler dries much harder than styrene, and can be very difficult to shape without risking the surrounding plastic. Their standard glazing & spot putty, like all one-part putties, dries by evaporation and will shrink after you apply it.