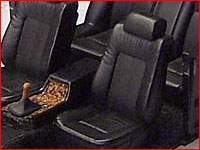 Tip for February 2007:
Leather & Vinyl Seats
To give your interior a "fresh Armor-All" look, start by painting the pieces with matte paint. Add one layer of Testor's Glosscote, and let dry. Then, take a paper towel and buff the painted pieces: the end result will provide realistic highlights and shadows. If you want to add even more shine, use a mild abrasive like toothpaste or silver polish, then thoroughly wash the parts.