Site Features
Getting Started in the Hobby
Model Categories
Quicksearch
Your search for
essay
returned
4
results:
Friday, March 19. 2010
My wife and I have a running gag about a certain restaurant that we won't go to. It's been around for years, always has a steady stream of customers, and generally gets good reviews. But we don't go there, simply because when we tried it out, once, nearly fifteen years ago, the food was lousy. To this day we joke about the "fish wine" that was served there.

It's not that we're generally hypercritical: as of this writing, my thirteen-year-old daily driver has over 287,000 miles on it and I have no plans to retire it (repair, yes; retire, no). Our five-year-old digital camera is at the shop again, but unless repairs are prohibitively expensive we'll have it fixed and continue to use it as long as possible. Tim Allen has a lifelong free pass for as many kids movies as he wants to make, thanks to Galaxy Quest.

The reason why we're so willing to overlook the faults of all of these things, but not the Fish Wine place, is because we had good impressions of them at the beginning. The car became "ours" after the first test drive: it performed nicely, was comfortable, and could be purchased for an excellent price. The camera was ready to use out of the box, interfaced with my computer flawlessly, and had some really cool features like an intelligent built-in macro setting, decent video capabilities, and expandability that is usually unheard of in a point-and-shoot cameras (things like a standard tripod mount, standard lens adapters, RAW file format option, etc.). And Galaxy Quest remains one of the two greatest Star Trek movies ever made.

The importance of first impressions has been drilled into us in everything from formal schooling to deodorant commercials, but it's surprising how many times we forget the concept. Take model building: it is generally delicate work that requires attention, patience, and the ability to observe and reason. Ideally, you want to work in a relaxed environment with good lighting, plenty of space, and few distractions. Yet there are still people who go into it under the worst of conditions, and as a result never pick up a kit again.

Keep this in mind if you're thinking about trying a model for the first time. If you're going shopping during the Christmas rush, you'll be crowded and hot and sweaty and never find a kit you're happy with. If you are trying to work on it while you'd rather be outside on the first warm day of spring, you'll be bored and distracted and nothing will come out right. If you buy the cheapest kit available you will get frustrated with the poor parts fit. If you choose the most expensive kit available you will get frustrated with the high number of too-delicate parts.

If, on the other hand, you find a decently-priced kit online or in a hobby store while you're killing some time, you'll have time to do some comparison shopping. Try to work on it when you have some free time, maybe during a rainy day when you didn't have anything else to do. Don't try to get it done all at once, but stop when you feel tired, bored, or hungry and come back to it later.

This holds true if you're introducing someone else to the hobby, too. You can give someone a kit as a gift, but don't be offended if they won't work on it right away. Give them time, offer to help, but don't force the issue. If they do decide to give it a try, let them work at their own pace. Don't hover over them and take over parts of the build because they're "doing it wrong." Let their skills develop naturally, and be there to offer assistance if one part or another is too difficult and they ask for help. Be sure to watch for signs of boredom or frustration, and offer to take a break and come back to the build later.

When the model is finished (either your own or a new modeler's), it will likely be imperfect. Parts may be somewhat misassembled, all four wheels may not touch the table, or the paint may have a fingerprint in it. Don't take any of these problems to mean that it is a bad effort, though! Instead, focus on the positive aspect (which is true regardless of what it looks like): it was something that was started, worked on, and is now finished. How often in your everyday life do you get to see real, tangible results for your labor? Revel in the satisfaction that something now exists that did not exist before, because you made it. Encourage new builders the same way: don't let them get bogged down in perceived faults, but commend them on the effort they put in.

If a first experience building a model is unpleasant, it's unlikely that the task will be tried again. But if the build is a relaxed, happy experience, it will be easier to work through the inevitable paint runs, glue drips, and lost parts in the future. After all, this is a hobby - have fun with it! Even if there are bad days in the future, a good first impression will make sure that you can weather them easily and not have to suffer with fish wine.


Thursday, December 6. 2007
The response from
last week's news about KITT
has been mixed. Some people think the GT500KR is a great choice, others think that the producers should've picked a better car, and still others wish that
Knight Rider
had stayed in the 1980s altogether.
Personally, I'm going to wait until I see it in action before I make a final judgement. But if they are planning on doing a restart or continuation of the series using the classic "William Daniels" version of KITT, I do wonder if the Mustang was the most appropriate choice. The old KITT was very refined - some would say snobbish - and it fit with the sleek lines of the old Firebird. Although a lot of its mystique has been lost over the last quarter century, the Firebird was a pretty stylish car for the time...before then, the tapered nose and pop-up headlights were design features normally associated with Corvettes and high-end European imports.
In the the movie
Knight Rider 2000
, KITT was less than enthusiastic about being placed in a classic car, and far preferred the Banshee-inspired sports car. I have a feeling that the KITT of old would've had a similar reaction to the GT500KR - an awesome machine, but more of a sledgehammer than a rapier. I think something a little sleeker might've been more appropriate, and it would've been cool to see KITT go back to his GM roots: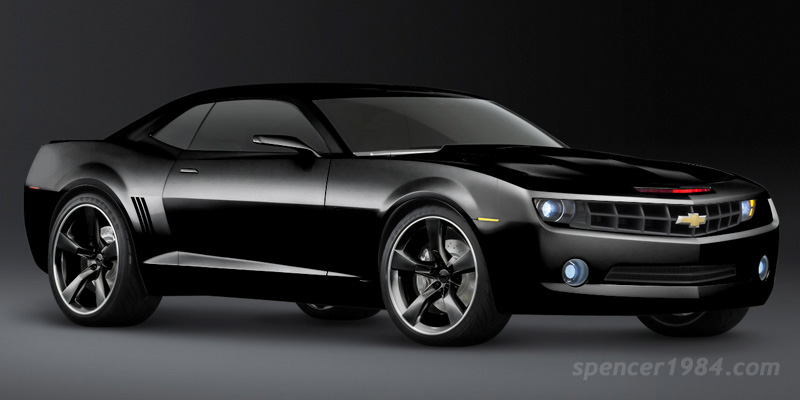 (Click to Enlarge)
Friday, July 27. 2007
I seldom do editorials here, but I thought this was interesting.
This story
was reported in today's
Mirror.co.uk
:
Burger King was yesterday slammed for encouraging kids as young as three to watch the violent Transformers movie. The fast food chain is giving away free toys, based on the film's characters, to kids of three and over despite it being classified a 12A.

The National Consumer Council chief executive Ed Mayo said: "This is a great summer for films and we wish Transformers well, but it has a level of violence that gives it a rating of 12 and over. So why are we seeing marketing to children over the age of three? The promotion with Burger King looks and feels like it's designed to pester and undermine."
(Full article available
here
)
It seems history is repeating itself.
This article
appeared almost exactly 15 years ago:
McDonald's Corp. has issued a written apology to a Christian organization that charged the burger giant with promoting "Batman Returns" as an acceptable movie for children.

The Dove Foundation, a non-sectarian organization based in Grand Rapids, Mich., said McDonald's Happy Meals tie-in with Batman encouraged children to see the movie but did not properly inform them of the film's violent and dark theme.
(Full article available
here
)
The responses from the fast food companies were about the same, too:
2007:
A Burger King spokesman said: "We are pleased to be able to make these popular toys available in our restaurants so that children who are perhaps too young to see the film can still enjoy the magic of Transformers.
1992:
"The object of our Happy Meal program was to simply allow young people to experience the fun associated with the character Batman," Jack Daly, McDonald's communications vice president, said in a prepared release. "It was not designed to promote attendance at the movie or to take the place of parents using their best judgment regarding which movies their children are allowed to see."
You can view these "evil corporations" with as much contempt as you see fit, but Daly has a point: why are Happy Meals and Kids Meals taking precedence over parents' opinions?
Batman Returns
and
Transformers
were both rated PG-13 (or 12 and 12A, respectively, in the UK) for a reason. But in both cases, the movies are based on subjects that can and do have appeal to the 3-to-10 demographic.
If a kid wants a Happy Meal/Kids Meal, the parents need to decide if the content
of the meal
is appropriate for their child: is it safe? Healthy? Are the toys appropriate? The parents then need to make another, seperate decision about whether the content
of the movie
is appropriate for their child: is it scary? Violent? Inappropriate due to swearing, nudity, or other "adult themes"?
I don't know why the concept of allowing one but not the other is so foreign. I seem to remember my parents making judgment calls all the time as I was growing up. In fact, one could say it was part of their job. Parents, please: if your kid want to see a movie, check it out first. The internet has eliminated the last remnants of the "I didn't know" excuse, so there's no reason to be caught off-guard by the contents of a movie. And if you find out that the movie is rated above your child's age, please take that to heart and don't bring them to it. They will only be bored, scared, or grossed out by it, and it will ruin the experience for them, for you, and for everyone else who went to see the movie.
Buy them the toys, tell them to have fun with the characters, and let them make up their own stories. Better yet, play with them and help make up stories that will be fun
and
appropriate.
Saturday, July 22. 2006
As I mentioned on my
Ratchet buildup
, I've been a fan of the Transformers since before the cartoon ever aired. I've bought the toys, watched the cartoons, read the comics, novels, and fanfiction. My favorite character is probably G1 Prowl, though Wheeljack and Shockwave are real close. I still smile every time I think about Sludge's tech spec quote.
Despite my long history with the characters, I've never felt cheated or slighted when a character got changed. When Megatron became a tank in G2, I considered it an upgrade. Prowl as an
F1 car
? Not so much, but not the end of the world, either. Optimus Prime as a fire truck? Sure, sounds good. As long as I can have fun with the characters, I'll keep collecting toys and building models of them.
In fact, I've always considered change a necessary part of the mythos. On a base level,
Transformers
is a war story. When one side or the other stagnates in any war, they fail. Knights discovered this when firearms came into common use. Regimented soldiers discovered this when guerrilla warfare came into being. War is one environment where evolution can not be debated. Historically, some of mankind's greatest scientific achievements came during times of war (whether they should have been used or not is a seperate issue). There's a reason why American forces were using P-51 Mustangs at the end of WWII instead of sticking with P-40 Warhawks. The same holds true for the Transformers: a walkman doesn't really fit in today's world. Soundwave as a character can still exist with his original personality despite what he turns into.
So I say to the creative team behind next year's
Transformers
movie: go for it. I'm not going to boycott it if
Bumblebee
is a Camaro instead of a Beetle or a New Beetle. It's not going to have any effect on my enjoyment of the existing character, his G1 toy, the upcoming Classics toy, or how he behaved in he cartoon or comics. Heck, I'll probably enjoy the new design as much if not more. I have faith that I will like this movie: I believe that everyone involved knows what makes the series great, and can stick to the root of the characters despite the cosmetic differences. I believe it will be a movie with good characters, a story I can enjoy, and mind-bending special effects.
Oh, and Peter Cullen is Optimus Prime. That's just awesome.
(Page 1 of 1, totaling 4 entries)