Made By:
Jada Toys
Scale:
1/24
MSRP:
US$24.99
Overview:
Packaging (Design):
10/10
Packaging (Durability):
8/10
Casting (Body):
8/10
Casting (Interior):
8/10
Casting (Chassis):
6/10
Casting (Engine):
N/A
Paint (Exterior):
9/10
Paint (Interior):
N/A
Paint (Trim/Graphics):
10/10
Overall Panel Fit:
9/10
Total Score:
8.5/10

Other Comic & Manga Models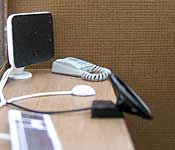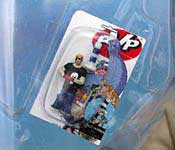 Detective Comics #377 Batmobile
Transformers Optimus Prime
DC Bombshells Batgirl (Review)
Transformers: Armada Hot Shot
PvZ Ferrari 250
Murciélago Lamborghini Roadster
Detective Comics #156 Batmobile
Evangelion Renault Alpine A310
Batman #408 Batmobile
Detective Comics #27 Batmobile
Judge Parker Corvette
Shakotan Boogie Yanky Mate! Z
DC Bombshells Poison Ivy (Review)
Avengers Chevy Camaro (Review)
Cyber Formula Asurada GSX (Review)
Ctrl-Alt-Del Zeke
Legends of the Dark Knight #5 Batmobile
Batman: Man-Bat Batmobile
Cyber Formula Asurada AKF-11 (Review)
DC Bombshells Catwoman (Review)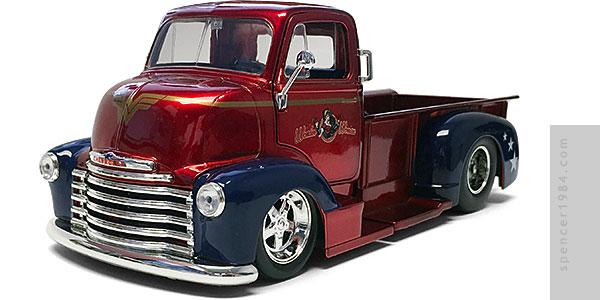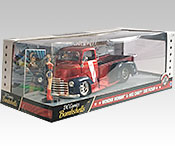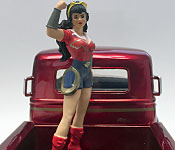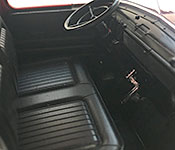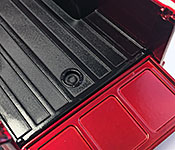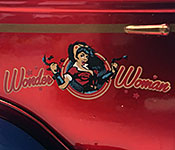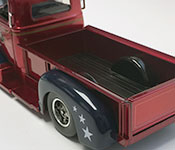 Background
DC Comics Bombshells got its start when reps for DC Collectibles attended the 2011 C2E2 and came across the work of Ant Lucia. Lucia was a pinup artist, and his work sparked the idea of reimagining some of the DC Comics characters as classic pinup art. After some internal pitching and an approval to move forward, DC Collectibles went back to Lucia to come up with the designs for what would be the first Bombshells statues. The statues proved to be a hit, and the Bombshells line has since expanded to include figures, collectibles, a comic series, and now a set of diecast cars.
Packaging
This is nearly identical to the box that was used for Poison Ivy, with the only changes being "★ ★ Wonder Woman & 1952 Chevy COE Pickup ★ ★" is now written under the window on the front panel and the internal die cut piece behind the truck now has pictures and script for Wonder Woman. The truck is held in place with two screws with a plastic band around the doors keep them closed and the rear of the bed is in a tray to keep the tailgate closed. Wonder Woman is screwed to the base near the front of the truck.
Casting/Paint
Like the rest of the series, this is generally very clean casting work with only a few parting seams on the most difficult of curved surfaces. Unlike Supergirl's Ford, the body here is made up of several pieces to get the proper contours and detail: upper cab, lower cab, doors, box, and tailgate are all diecast pieces skillfully assembled with good transitions and tight, even seams. The front bumper, grille, hood trim, headlight bezels, mirrors, and grab handles are chrome plated plastic; the bed liner is black plastic; and the headlights and glass are clear plastic. Paint is a beautiful candy apple red and navy blue, both finished with a clear high gloss. There is a little ghosting where the two colors meet, but the overall finish is clean and looks good. A vintage-correct "Chevrolet" with bow tie is printed on the hood trim. In addition to the usual "nose art" portraits on each door, there is a gold "WW" symbol on the hood that lines up with a gold stripe circling the cab and a set of three white stars on each rear fender. It's a very clever use of Wonder Woman's golden lasso and star-spangled costume, and the printing is executed flawlessly.
The interior is black plastic with bright chrome used for the pedals and rear view mirror. Detailing is good, with pleated seat cushions and enough dash details to keep things from looking too plain. The same can't be said for the chassis, which is about as basic as it gets with only vague nods towards engine or drivetrain detailing. The wheels are bright chrome Weld Prostars with street tires up front and fat drag slicks in the rear.
Features/Accessories
The doors and tailgate open. They all work fine, with smooth hinges on the doors and a good latch and nearly horizontal stop for the tailgate. A 1/24 Wonder Woman figure is also included, flexing her right arm while her left arm rests on her hip. This is one of the best castings of the series, and if not for her lasso it would be the easy winner. Unfortunately, Jada opted to cast the lasso as part of her leg like they did with Batgirl's parachute straps, and the results are equally bad. At least her paint is very well done, and the seams on her arms are practically nonexistant.
Accuracy
This is not based on an existing design, but is instead a "character car" that simply uses an existing tooling with a new paint job to evoke a persona. It does miss the WWII aesthetic by virtue of being a truck made after 1950.
Overall
Another awesome piece in the Bombshells line. The truck looks good, there are some clever nods that show Jada's design team was on their game, and the figure is excellent. Very highly recommended.
Have a question, comment, or criticism about this review?
Send me an e-mail
with your thoughts!