Made By:
Guiloy
Scale:
1/24
MSRP:
USD$10.50
Overview:
Packaging (Design):
7/10
Packaging (Durability):
7/10
Casting (Body):
7/10
Casting (Interior):
6/10
Casting (Chassis):
6/10
Casting (Engine):
5/10
Paint (Exterior):
8/10
Paint (Interior):
N/A
Paint (Trim/Graphics):
N/A
Overall Panel Fit:
7/10
Total Score:
6.6/10

Other Factory Stock Models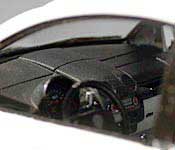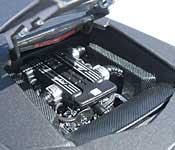 Lamborghini Reventón (Review)
'98 VW Golf
Jaguar XKR (Review)
'01 BMW X5
'98 VW Beetle
Bedazzled Lamborghini
Good Guys Wear Black Porsche
Aston Martin DB7 (Review)
DeLorean DMC12 (Review)
The Fast & the Furious Jaguar
Alone in the Dark VW Touareg
The Chase BMW 325is
Land Rover Defender (Review)
'71 Alfa Romeo (Review)
2½ Men Mercedes
V.I.P. Jaguar
'94 BMW 740i (Review)
Citroën DS 19 (Review)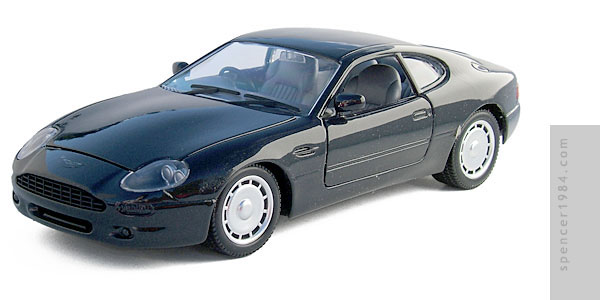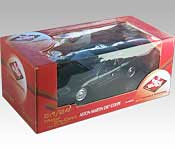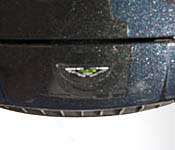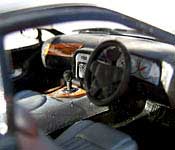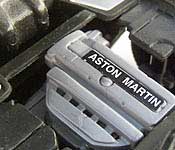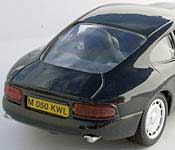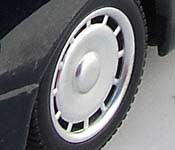 Packaging
The car is packaged in a fairly generic red window box, with a single clear panel that takes up most of the front and top panels. The Guiloy logo is in the top left corner of the top panel, and the lower right corner of the front panel. Across from the logos on both panels is the scale and "Metal Die-Cast Made in Spain." The logo, scale, and "Metal/Made in..." are all repeated on the end flaps and the back of the box. The name of the car is on a sticker applied to the front panel. The only "decoration" on the box is a series of nine thin lines: three green, three blue, and three orange. The bottom of the box has all of the legal info and a checklist of other cars in the series. the car itself is held to a cardboard tray with four traditional rubber bands.
Casting/Paint
The casting is generally pretty clean, and the metallic dark gray finish is smooth and consistent. Unfortuantely, it doesn't cover the whole car: it appears to have been painted after assembly, and the door sills remain raw metal. Also, the car suffers from mixed panel fit and giant, unweildy hinges. Detail work is very simplified: the doors are single pieces (no separate inner door panels), the seats and wheels are hollow-backed plastic, and the engine is a large lump. There are no extra paint applications anywhere on the car: everything is cast in its final color, and the dashboard, inner doors, nose badge, engine top, mirror glass, and license plate are stickers. There are some nicely done features, such as the separate wipers and multi-piece headlights...but at the same time, the taillights have large, broken-off tabs where they were originally attached to a larger parts tree.
Features/Accessories
The hood and doors open, the front wheels steer (but return to center automatically), and both front seats fold forward.
Accuracy
You can definitely tell it's a DB7, but this is really designed as more of a toy than a true replica. The overall proportions look close enough, and you probably won't notice any real differences unless you're very familiar with, or purposely comparing it to, the 1:1. But, there are definitely a few things that aren't quite right...the hood appears to be missing a bulge, and the wheels aren't quite as deep as they should be...small details like that. However, the scale is a spot-on perfect 1/24.
Overall
Although this replica does have several problems, there are two things to consider. First, this was likely first released back when the DB7 debuted in the mid-1990s. Diecasts have come a long way since then, and are held to much higher standards now than they were at the time. Second, this is toward the lower end of the diecast price range, so some simplification is to be expected. When you factor in how few Aston-Martins are available in 1/24, it suddenly becomes a lot more attractive. If you are looking for a high-quality replica of this British sports car, you'll want to look elsewhere. But, if you're just looking for a fun little replica, or are willing to put in some extra work to make it look better, you might want to consider tracking one of these down.
Have a question, comment, or criticism about this review?
Send me an e-mail
with your thoughts!